ROMANCE CASTLES OF BURGUNDY WINE REGION
Château de Châteauneuf-en-Auxois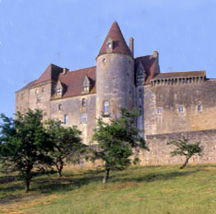 A few kilometers from Beaune (see also Beaune Wine and Virgins) is the Castle of Châteauneuf-en-Auxois one of Burgundy's jewels of medieval architecture in the center of a beautifully quant French wine country village over-looking the vineyard land of the Cote d'Or and the Bourgogne Canal. The original square keep of the Chataeu built in the 12th Century is surrounded by structures built a few centuries later as updated living quarters in a flamboyant late Gothic style. The newer section was built by the most famous of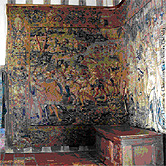 Château's residents, Philippe Pot, Knight of the Order of the Golden Fleece, a confidant of King Louis XI, who was given the castle by Philippe le Bel, Duke of Burgundy in 1457.The chateau's intimate chapel is painted with delicate religious works depicting Christ and the Apostles. The earlier part of the fortress defenses from the 12th and 13th Centuries are still present in the round towers and outer walls. A magnificent collection of medieval tapestries hang on the walls of the apartments.
The Chateau Chateauneuf-en-Auxois can be reached from Beaune about 20 minutes along the A6 or in 45 minutes off the A38 from Dijon. Also nearby is the Château Barbirey-sur-Ouche along the Ouche-Bourgogne Canal with lovely landscaped gardens.
And for families, a Steam Train departs from the old station at Bligny-sur-Ouche and travels up the beautiful Ouche Valley for views of verdant French countryside hills, old houses and vineyards. © Bargain Travel Europe
Other Chateau Castles in Burgundy
Château de Bussy-Rabutin
Château de De Cormatin
Compare the best travel deals in Burgundy at TripAdvisor
Web Info
Cote'd'Or
Plan your rail trip with an interactive Map of France
These articles are copyrighted and the sole property of Bargain Travel Europe and WLPV, LLC. and may not be copied or reprinted without permission.
SEE ALSO:

WINE ROUTE DES GRAN CRUS

CHATEAU HAUT-KOENIGSBOURG ALSACE

FONTENAY ABBEY