FAMILY TRAVEL ADVENTURES - INTREPID TOURS
Italy, Croatia and Spain Family Adventures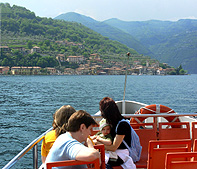 Intrepid Travel specializes in tours with small groups, so it feels like traveling with a group of friends, with a flexible guided structure allowing as much independent exploration as possible and a chance to mingle with real locals. They provide tours in different styles but have created tour experiences specifically for families with arranged activities. Far from just "child friendly", Intrepid's family adventure tours give the kids a chance to discover the world along with you.
There is as much for parents to do as the kids. The trips allow parents and children the opportunity to spend quality time together. These family themed trips are generally localized to a base accommodation to avoid the "are we there, yet" fidgets of bus tours and car trips. The last thing dad needs is for the kids to notice he's reading the map upside down, right?

Here are some selected family fours to save your budget. Use the trip code on the Intrepid website to find the specific tour or put in the country you're interested in for the full range of available tours including multiple country journeys.

Italy Family Adventure 14 Days (trip code ZMFA) starts with once-in-a-lifetime exploration of Rome, from ancient gladiators at the Coliseum to tossing a coin into the Trevi fountain. Visit Lucca in Tuscany for a cycling tour of the old city walls and see some of the art of magnificent Florence, with a day trip to the leaning tour in Pisa. Walk the paths of the Cinque Terre (the five lands) famous for its seaside landscapes. In Stresa on the incredible Lago Maggiore in Northern Italy, take in the breathtaking scenery by boat on the lake and cable car ride to the mountain tops for a look at the Italian Alps. And last be not least, Venice, for exploring its canals and piazzas.

Southern Italy Family Adventure 8 Days (trip code ZCFI)
This version of Italy discovery is based in Sorrento. Explore the ancient ruins of the city of Pompeii buried by the eruptions of the mighty Mt Vesuvius. Take a visit to a working farm in Paestum to sample fresh farm buffalo mozzarella cheese. Wander off to an adventure on the Island of Capri and try a hand a making pizza in a cooking class.
Croatia Family Adventure 7 Days (trip code ZCFC)
The Dalmatian Coast of Croatia has returned to its status as one of the most glorious sunny coastal getaways of Europe. This tour features the "Pearl of the Adriatic", Dubrovnic with accommodation in the idyllic village of Mlini. Stroll the historic streets and wander the walls above the town. Admire the view from the top of Mt Srdj. Swim in the blue of the Adriatic Sea and take bike rids , Ride a bike through valleys and vineyards. Paddle sea kayaks below the magnificent city walls on the way to the lush island of Lokrum. Enjoy a family bike ride through the scenic valleys and vineyards of the Konavle region. Mom and dad can indulge in wine tasting, while the kids can feast on tasty dried figs.

Spain Family Adventure 8 days (trip code ZCFS)
Stay in a restored guest house in the picturesque village of Mairena perched above the sparkling Mediterranean coast, surrounded by cultivated terraces and ancient waterways for a week of authentic relaxed country village life Spanish style. Kids can get a kick from riding donkeys and helping to milk goats while the adults sample the award-winning wines at an organic vineyard, taste local cheeses and learn to prepare a perfect Paella in a cooking class. After working up an appetite with days full of exploration and adventure, return to the rustic comforts of the guesthouse for relaxed nights around the dinner table. © Bargain Travel Europe
Web Info
Intrepid Travel
These articles are copyrighted and the sole property of Bargain Travel Europe and WLPV, LLC. and may not be copied or reprinted without permission. Intrepid Travel is an advertiser on this site.

SEE ALSO:
FAMILY ACTIVE TRAVEL - DOLOMITE MOUNTAINS
FAMILY ENTERTAINMENT ON THE COTE d'AZURE
NOT ALL THE ART IN PARIS IS IN MUSEUMS