Wales Destination Stories on Bargain Travel Europe
WALES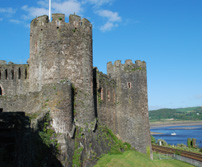 In the recent film version of the life of legendary flyer Amelia Earhart "Amelia" after flying across the Altlantic she is greeted by locals who sing and asks if its customary in Ireland that visitors are greeted with a song. One of the locals tells her he wouldn't know – as "this is Wales". Aside from the idea that the famous aviatrix never seemed to land where she intended – the of importance of singing to the Welsh culture has been well known. On a visit to Wales today, you may not be greeted with a song, but may well walk into the midst of a conversation in the native Welsh language, still commonly used, especially in the north and interior, though English is the main language, official signs are in both languages. The Welsh are very proud of their corner of the British Isles under its own flag with the iconic symbol of Wales, the Red Dragon.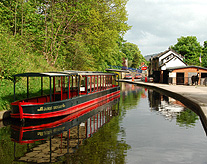 Much of Wales is mountainous natural country with most of the population in the south, from the capital of Cardiff to Swansea or along the northern coast, where the famed castles of Edward Longshanks formed the "Iron Ring" and Mt. Snowdon, Britain's highest peak, form the heart of the Snowdonia National Park, edged around by green meadowlands cut by steam railways and canals. It was in the north that the National Hero of Wales, Prince Owain Glyndwr, revolted against the English rule and held out before ultimately escaping capture. The Legends of King Arthur are said to originate in Wales with sites from Merlin's reputed birthplace in Carmenthenshire to the strones of Arthur's sons in Pembrokeshire near the southern cliffs of the Atlantic. Though Wales does have small airports, most international visitors to the country arrive via the gateways of London to the south or Manchester to the north, then by train or car. The rail lines of Wales mostly follow the coast in the mountainous north. Ferries from Ireland provide a connection across the sea. With three national parks, stunning castles and ocean coastline Wales offers lots of history, unique cuisine and culture and some of the most beautiful scenery for hiking, walking, biking and scenic drives in Britain.
NORTH WALES
PORTMEIRION VILLAGE AND GARDEN
"The Prisoner" Village Hotel and Cottages in North Wales

PENTRE-MAWR FARMHOUSE SNOWDONIA B&B
Snowdonia Country Farm Bed & Breakfast
WALES IN WINTER DISCOUNTS DEAL
American Airlines and Travel Wales
HARLECH CASTLE WALES SNOWDONIA COAST
Edward I's Toughest Ring of Iron Fortress
THE CASTLE HOTEL CONWY
Shakespeare and Dawson's Bar & Cuisine North Wales
PLAS MAWR ELIZABETHAN TOWNHOUSE OF CONWY
Preserved and Haunted Tudor Mansion

BEAUMARIS CASTLE & OLD TOWN
Medieval Fortress Gem on Anglesey Isle
RUTHIN CASTLE HOTEL - GHOSTS & MEDIEVAL BANQUETS
History & Hauntings at Luxury Hotel in Denbighshire
CONWY CASTLE - TOWN WALLS & TELFORD BRIDGE
Great Turreted Castle of Edward I
ST DEINIOL'S LIBRARY - GLADSTONE'S LEGACY
Unique Stay - Bed and Breakfast among the Books
HOME FRONT WWII MUSEUM - LLANDUDNO
Fascinating little Museum in Wales Seaside Resort

GREAT ORME TRAMWAY
Resort Historic Cable Car and Copper Mines

LLANGOLLEN STEAM RAILWAY - RIVER DEE
Scenic Train Rides along the River Dee Valley
BODELWYDDAN CASTLE - DENBIGHSHIRE
National Portrait Galley and Hotel
CAERNARFON CASTLE - GWYNEDD SNOWDONIA
Edward I's Most famous castle of the Iron Ring
STEAM HERITAGE RAILWAYS - PORTHMADOG
Rheilfford Festiniog and Welsh Highland Railways
INIGO JONES SLATE WORKS
North Wales Slate Shop Tourist Stop
LLANGOLLEN MOTOR MUSEUM
Quirky Car Garage History Collection in Wales
CHIRK CASTLE – WREXHAM WALES
Medieval Marches Castle and Stately Manor
PLAS TAN YR ALLT B&B - PERCY SHELLEY GHOST - PORTHMADOG
Romantic B&B in Historic William Maddocks House
SOUTH WALES
ST DAVID'S BISHOP'S PALACE AND CATHEDRAL
Great Religious History in Wales Smallest Town
DINEFWR CASTLE PARK AND NEWTON HOUSE
Medieval Castle and Victorian Manor Carmarhenshire
PEMBROKE CASTLE
Tower and Walls of William Marshal and the first Tudor King

CAERPHILLY CASTLE
Wales Largest Medieval Castle

FISHGUARD MANOR TOWNHOUSE - PEMBROKESHIRE COAST B&B
Pembrokeshire Coast Path Views at the Ferry
DYLAN THOMAS - BOATHOUSE AND TOURING SITES
Touring The Haunts of Wales' Favorite Poet Son
CAREW CASTLE & TIDAL MILL
Norman-Tudor Castle and Tidal Mill near Tenby
DINOSAUR PARK - FAMILY ENTERTAINMENT - TENBY
Family Fun Park with Dinosaur Trail and Activities
LAUGHARNE CASTLE
Romantic's Ruin on the South Welsh Coast
PLANTAGENET KNIGHTS OF WALES
Medieval Events at South Wales Castles
BRONWYDD ARMS STATION - GWILI STEAM RAILWAY - CARMARTHEN
Heritage Train Excursions and Signal Box History
MERLIN'S HILL - CARMARTHEN
Working Farm B&B and Iron Age Hill Fort
OYSTERMOUTH CASTLE - MUMBLES
Norman Castle of Lords of Gower Re-Opens 2011
LLANGYFELACH PARISH & ST DAVID'S CHURCH
Norman Church Tower and Celtic Graveyard
GLAMORGANSHIRE FAMILY ANCESTRY RESEARCH - SWANSEA
West Glamorgan Archives
SEAVIEW GUESTHOUSE - DYLAN THOMAS - LAUGHARNE
Dylan Thomas House Guest Rooms & Restaurant
CARREG CENNEN CASTLE & CASTELL FARM - LLANDEILO
Magnificent Ruin of Carmarthenshire
These articles are copyrighted and the sole property of Bargain Travel Europe and WLEV, LLC. and may not be copied or reprinted without permission.
TRAVEL TIPS & EXTRAS:
GREAT BRITISH HERITAGE PASS
Save on Seeing Britain's Great Historic Sights

BMI'S MANCHESTER GATEWAY TO THE UK
Avoid Heathrow and Discover Northern England and Wales
AIRPORT PARK STAY & FLY AWAY UK
Holiday Inn Express and Crowne Plaza
Travel Links Links 2 Links 3 Links 4.
Easy Web Hosting on Bluehost $6.95 mo!