Access VIP Lounge on Any Class of Ticket Priority Pass
FINDING A CHEAP AIRFARE
Bargain Power in finding the Cheap Tickets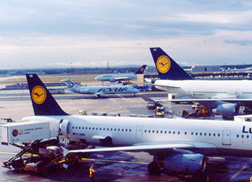 Searching for the cheapest airfare to a given destination takes a little work. Large travel services like Expedia
, Travelocity
often have as cheap a fare as the rest with some variations, Priceline has stopped charging booking fees. Vayama – focuses of international flights searching over 100 airlines for fares with an interface for selecting multiple destinations.
Aside from convenience the big sites can package air and hotel for a some savings and have more robust dispute resolution. Searching after midnight may yield some cheaper seats closer to departure date as some reserved but un-bought seats are released and Tuesdays tend to be a good time to search for lower fares.
Some sites list the fare as separate from taxes and fees. If a fare looks really low check to see if taxes and fees are included. Those low fares you see in ads in the paper are often without taxes and fees. UK based Skyscanner
is the tracker of Europe's discount airlines.
If it doesn't matter to you what airline you fly on, you can make a bid on Priceline. But know that if you bid too much below the going listed rate you're most likely to get a counter offer. It's usually cheapest to fly roundtrip to hubs, and each airline has its own hub, so depending where you're going will determine which carrier will have the best deal. And if you have a date you want to travel, but can adjust your days, try bracketing departure days, a ticket on a Sunday might be double the fare of a Tuesday flight.
EUROPEAN BASED DISCOUNT BUDGET AIRLINES

Air Berlinis now Germany's second largest airline with international flights to Germany primarily through their hub in Dusseldorf and to many European destinations.
Virgin Atlantic has some of the best deals from US to London with comfort in every class.
German Wings is a discount carrier with price structure similar to Ryanair. For a bonus city on a European trip, try flying KLM
from through Schipol and have a 20 hour layover in Amsterdam (less than 24 hours is no extra cost) and add a city to your Europe trip before flying to your destination city..

Sometimes it may be worth it to fly to an airport a little distant from your ultimate destination and take the train with a railpass if you're going to be utilizing rail for other parts of your trip. Some airlines are now offering fares to fly into one city and out from another at the same fare as a hub round trip, so check the mulitple-destination interface. Or take a low cost airline to a secondary airport. You can check low cost discount airlines carriers like RyanAir and Easyjet (see Budget Discount Airlines Beware RyanAir baggage limits).
You can check flight wholesalers like DiscountAir for cheap airfairs. Students and teachers traveling may want to check deals offered by STA Student Travel.

Many of the search engines and ticket providers are all searching the same data base of published fares and some of the larger travel services can block out tickets for themselves. You may find many of the cheap flights promised by wholesalers and discounters are not that different than the majors, since many are just selling the same ticket. But spend some time and you may find that cheap gem that makes you feel you own the world! © Bargain Travel Europe
Airfare Deals and Discounts Priceline - save up to 40%
These articles are copyrighted and the sole property of Bargain Travel Europe and WLPV, LLC. and may not be copied or reprinted without permission.
See Also
BUSINESS AND FIRST CLASS AIR TRAVEL DEALS
RULES FOR HAND CARRY-ON LUGGAGE IN EUROPE
NEW SFO DIRECT FLIGHTS TO EUROPE

AIR BERLIN / DUSSELDORF - TWO CITES FOR ONE