GET MARRIED AND GET A FREE MERCEDES
Mons Romantic Belgium Town and Nato Headquarters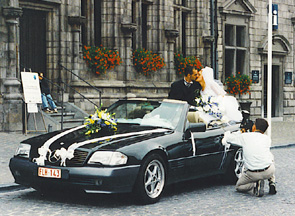 Okay, maybe they don't give you the Mercedes. But you can get your picture taken on one outside the town hall of Mons after a civil ceremony. Mons, Belgium is a quite little romantic town in the Hainaut region of southern Belgium bordering France about an hour from Brussels. The town market square of Mons is one of the most beautiful in Belgium, dominated by the
town hall. On market days it's filled with flowers, fruits and vegitables and locals hagling. The streets of the old town are narrow, curving and rarely level, set on the gentle hills, with old houses jumbled together. Vincent Van gogh lived here for a year in 1879, in a house in Cuesmes, now open to the public. At night, in the excellent regional Belgian cuisine restaurants around the city square, one can encounter military wives from many countries, whiling away the hours after shopping.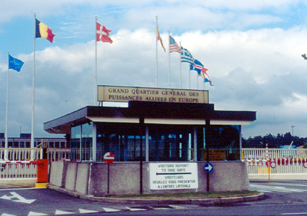 The administrative office of NATO is up in Brussels along with other EU offices but the military "Supreme Headquarters of Allied Powers in Europe" SHAPE is just outside Mons, mostly a legacy of past European wars as Mons was the site of the first battle of WWI (see Flanders Fields WWI Monuments). The military base is a few kilometers from the edge of the city, marked by the flags of member nations. Mons is an active business center related to the base, but the old city seems far removed.
A stay at a local family run Bed & Breakfast just a few steps up the cobblestoned streets from the town center costs a fraction of more familiar tourist destinations. Upon check-in, you will be offered the option of without breakfast or with for a few Euros extra. The charming owner with a smattering of Belgie accented English will assure that it is a "big" breakfast. The breakfast is typical French style - croissant and jam, and a "big" breakfast here apparently means you get four kinds of bread with your jam. But the stay and the town is charming and feels all to your own. And if you need a McMuffin there's always the ever present McDonalds.
If you're looking for a little more quiet out-of-the-way honeymoon destination or romantic European getaway with a few familiar sounding voices, Mons might be just the place. And the prices have yet to catch up with Europe's more familiar tourist destinations, so definately a lesser known bargain honeymoon spot. Mons is about an hour by car south of Brussels or by the Thalys High Speed Train from Paris in about 1 hour 20 minutes. The nearest airport is in Charleroi about ten mintues. Or maybe you'll want to rent the Mecerdes for the drive through the verdant countryside of beautiful Belgium. © Bargain Travel Europe
Find best hotel and travel deals in Belgium on TripAdvisor

Best Western Hotel Lido
Book Thalys High Speed Rail
Web Info
Mons Tourism
These articles are copyrighted and the sole property of Bargain Travel Europe and WLPV, LLC. and may not be copied or reprinted without permission.
SEE ALSO:
VALENCIENNES CATHEDRAL

EUROSTAR LONDON / PARIS

GORGE-EOUS LUXEMBOURG
THREE CHOICE HOTEL BARGAINS IN NICE