About Travel Author Michael January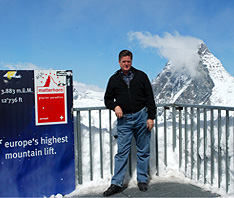 Michael January is editor and principal author of stories and articles found at Bargain Travel Europe. My trips to Europe orginally and still as a film writer and now as a travel writer have taken me to some cool out-of-the-way places in search of those unique destinations that make travel endlessly fascinating. I've learned a few tricks to traveling on a budget along the way which I endeavor to share. My journeys as a journalist in the travel world began on one of my trips to Germany for film business, where I knew they had castles but didn't know exactly where they were and set out to find them. I've now encountered a lot of those and a whole basket full of other one-of-kind places to visit through-out Europe. I often now encounter locals who are amazed at the places in their own countries I have been.
Bargain Travel Europe was begun in 2006 following the principal that "if I knew that was there, I'd want to go", so I endeaver to find both the familiar and the unusual and lend a personal viewpoint.
Follow Michael January on Twitter
Please visit Bargain Travel West for unique destinations in the U.S., Canada other travel locations in the Americas. And Bargain Luxury Travel for those interested in a more upper scale travel experience.
Easy Web Hosting on Bluehost $6.95 mo!