THE CHARLES DICKENS MUSEUM - LONDON
A Social Conscience of Victorian England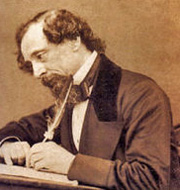 Charles Dickens just celebrated his 200th Birthday. Well other people did. Dickens was born a dock worker's son in Kent where the Thames River wound to the sea and the currents would carry the crap and creosote of Victorian London to the shipping docks of the lower river. From this rough hard scrabble world Dickens came to London to become one of the worlds best loved authors of the English language, known for his social commentary as much as for the depth and humored color of his characters. Dickens can currently be found buried with honor in Westminster Abby where you have to watch your feet not to step on his commemorative grave marker, but in his lifetime he traveled a good deal and lived in a few houses, but Dickens did a good deal of his writing from an upstairs room in his house in Bloomsbury. The house at 48 Doughty Street is now the Charles Dickens Museum where many of his letters, manuscripts and personal items can be viewed in rooms reconstructed with furniture and paintings from his time.
Compare the best deals on hotels in London

Dickens became famous in his own life as much from his writings as from his readings of them to sold-out crowds with tickets as hard to get as a modern day U2 concert. The museum offers readings from Dickens' beloved books. A new exhibit "Ignorance and Want: the Social Conscience of Charles Dickens" tells the story of Dickens' focus on social reforming inspired by his early childhood days on the Chatham docks of the Thames River where you can visit another Dickens themed attraction (see Dickens World Kent) and expressed in his novels Oliver Twist and Nicholas Nickleby which were both written in the house which comprises the museum.
Dickens ranks in English literature alongside Shakespeare (though Dickens had his doubts of the man from Stratford-on-Avon) where Dickens' autograph can still be found etched into a window glass pane along with contemporary author and humorist, Mark Twain (see The Stratford Man). © Bargain Travel Europe
Compare the best deals on hotels in London on TripAdvisor
Web Info
Charles Dickens Museum
These articles are copyrighted and the sole property of Bargain Travel Europe and WLPV, LLC. and may not be copied or reprinted without permission.
See Also:

RIDING LONDON EYE WHEEL OVER LONDON ROOFTOPS

BRITISH MARITIME MUSEUM & ROAY OBSERVATORY

FAMILY ANCESTRY RESEARCH TRAVEL BRITAIN
BEATLES LIVERPOOL DAY TRIPPER TOUR