WORLD'S LARGEST MODEL RAILWAY - LOXX AM ALEX
Berlin in Miniature at New Alexa Center Mall
It's billed as the world's largest digitally operated miniature railroad display. It has complete neighborhoods, old towns, high-rise economic center, stadium with a concert, fun fairs, an international airport where jet planes take off and land!, cars moving on highways and narrow streets, and every 20 minutes it turns to night with the thousands of twinkling lights and splashes of illumination. Modeled on the real world Berlin areas it has fantasy imaginings as well. It is operated by 34 separate computers running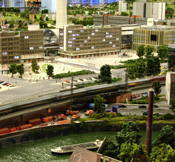 400 model trains on over 4 kilometers of track winding across bridges, past factories, and apartment lined neighborhoods through road crossings where 10,000 cars and 50,000 miniature inhabitants go about their shrunken daily lives (a miniature day lasts forty minutes, apparently). The control console takes up a good portion of a wall with video monitors tracking all the running trains, automobile traffic and city operations. You can follow the S-Bahns, Regional rail, and Ice Trains as they make their way around the city and environs.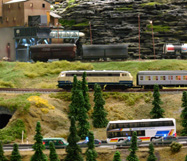 The Loxx Miniature World Berlin Railway version of Berlin is found on the upper floor of the Alexa Indoor Shopping Mall, a brand new five floor complex of upscale clothing, bargain brands, food courts, clothing and gadgets stores filled with the young hip mall shoppers of Berlin. The Alexa Center Mall (the Alex) is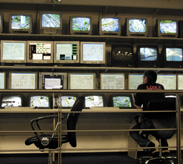 just a block to the east of the Alexanderplatz rail station (and can easily be seen from the real life train coming from the Ostbahnhof) and a few streets from the Berlin TV Tower, which is represented in miniature in the center of the model railway. In fact, you can take home a model kit of the Berlin TV Tower to add to your own hobby railroad.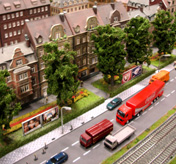 The Loxx am Alex railway is HO scale, covering nearly 3,000 square meters inside the rather industrial upstairs space at the mall, with lots of room to grow. The railway is constructed of Fleishmann rail models and mostly Faller model buildings which can be purchased in the shop. Most of the buildings, structures and landscapes are original and unique. New sections are always being added, recently working on the Berlin Reichstag and Tiergarten.
Visiting Model Rail Loxx am Alex
The Loxx am Alex is open 365 days a year from 10am to 7pm. The cost to go in is €8.90 for 15 years and older, with a discount for younger kids. If you've got a miniature child - under 1 meter tall, they're free. There is a snack bar inside. Across the hall from the entrance is a separate child's play area, Kinder City for small children to be entertained while adults wander the mall at leasure, so while the big kids admire the wonder of the world in small, the small children can be entertained, too. Keep going up the escalators to the back of the Alexa. © Bargain Travel Europe
Find best hotel and vacation deals in Berlin on TripAdvisor
Web Info
Loxx am Alex
These articles are copyrighted and the sole property of Bargain Travel Europe and WLPV, LLC. and may not be copied or reprinted without permission.
See Also:
NEW BER BERLIN-BRANDENBERG AIRPORT
BERLIN FILM MUSEUM - SONY CENTER POTSDAMERPLATZ
RAIL MUSEUM DARMSTADT-KRANICHSTEIN
EUROPE RAIL PASS - ARE THEY WORTH COST

HAMBURG MINIATURE WORLD MODEL RAILWAY