KING TUT IN MUNICH
Tomb and Treasures of Tutankhamun Exhibition
Archived - Sorry- Tut Moved On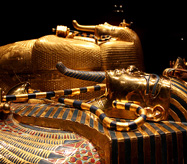 The magnificent burial tomb of the boy Pharaoh Tutankhamen is recreated in amazing detail at Munich's event arena at the Olympia Park, covering 4,000 square meters. Visitors of all ages will have a chance to experience the magic and exotic mysteries of Ancient Egypt in the Bavarian capital city from April 9 until August 30, 2009. Artifacts of the mummified buried royal mystery man have been traveling the world on a grand farewell tour for several years, from London to the Czech Republic and next to Germany before returning to his homeland for a permanent rest. For the Munich incarnation of the exhibition burial artifacts and treasures have been replicated in museum quality copies to adorn the inner tombs of the burial chamber, like an adventure into the past, replicating the experience of the discovery of the tomb 86 years ago, by English antiquities explorer Howard Carter. These are however, not the real treasures of King Tut, which must remain behind atmosphere controlled high security museum settings, the exhibition project Tutankhamen – His Tomb and his Treasures is intended reveal a new perspective for visitors to relive the fascinating story of the excavation in 3 dimensions, unfolding like a novel.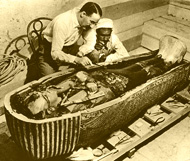 Over ten years during the original discovery in 1922, but Howard Carter, as the treasures of Tutankhamen were moved from the tomb to the museum display, photographer Harry Burton recorded the tomb and excavations on giant glass photographic plates, eventually almost 3,000 negatives, documenting in painstaking detail the world's introduction to the young Egyptian king who died under still mysterious circumstances. It is this factual record that the exhibition follows in telling its story.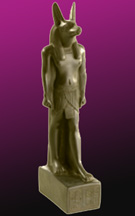 Advance tickets are on sale through the exhibition website. Price for Adults is 16 € Mon-Fri, 8 € for children 6-14 and 13 € Students and Seniors. On weekends and holidays prices are a little higher 19, 10 and 16 euros respectively. A family ticket is available for two adults and as many children as you can prove under 14 for 39 € weekdays, 49 € weekends. Tickets will have a specific entry time, but you can stay as long as you like. And of course, there's a shop where you can take home your own ancient Egyptian King Tutankhamen artifact replicas to create your own tomb for the ages. With the advantage of no curses attached. The Olympic Park event arena is on the north west side of Munich, a short underground ride from the main train station. Nearby is the Olympic tower and the BMW museum (see BMW World). © Bargain Travel Europe

Find best hotels and vacation deal in Munich on TripAdvisor
Web Info
Munich Tourism
These articles are copyrighted and the sole property of Bargain Travel Europe and WLPV, LLC. and may not be copied or reprinted without permission.
See Also:
MUNICH ART PINAKOTEKS ALTE NEUE & MODERNE
THE RESIDENCE - BAVARIAN CROWN JEWELS