HR GIGER MUSEUM & BAR
Macabre Alien Fantasy in Medieval Gruyères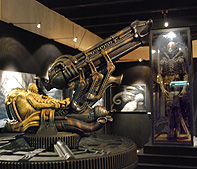 I recall in 1980 after standing in a long line for a several hours, being terrified and amazed at the horrific and stunningly original monsters and haunting atmosphere of Ridley Scott's outer space horror opera "Alien" - my first introduction to the work of Swiss fantacist artist HR Giger. I had the small privilege of being able to examine up-close one of the fantastic props from the movie, the giant dead alien spaceship pilot fossilized in his chair in the skeletal womb of the cavernous stranded spacecraft turned alien egg incubator. As promotion for the movie premier, the huge prop made of carved Styrofoam was on display outside the Egyptian theater in Hollywood. A few days after the opening, a column of black smoke rose into the sky over the boulevard of broken dreams. The prop had caught fire, probably lit by some careless firebug vandal and burned to a melted puddle of foam plastic. Fortunately, a miniature model of that alien pilot model and other gruesome props and artifacts from that film and the fascinating collection of HR Giger's art can be found in Switzerland.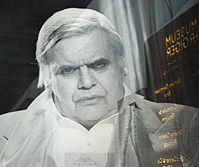 In 1990, HR Giger was invited to show his work at the small fantasy art gallery located in the medieval castle of Gruyères, Switzerland. Mr Giger fell in love with the town, and perhaps even more with the millions of visitors who come to the quaint medieval town every year for the cheese and the nearby chocolate factory (see Nestle-Cailler Factory Tour). Aside from an artist of macabre genius working with the grapic artist's airbrush, like Picasso, Dali, and Magritte before him, HR Giger is also no small devotee of self promotion. With much of his work stored in a warehouse, the village of Gruyere seemed the perfect place to open a museum of his unique art. He acquired the Chateau St Germain, a mediavel house just outside the entrance of Gruyere's castle (see Castle of the Counts of Gruyere).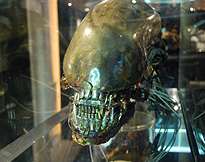 The HR Giger Museum opened in 1998, presenting the artist's grotesque visions of surrealist bio-mechanical humanoids, where flesh and machine join in sexual obsession, fantastical cityscapes, the stuff of haunting nightmares, and horrific creatures that have captured the fascination of devotees around the world. Among the museum's exhibits are operating props for the "Alien" movie with articulating puppeteer cables to operate the monster's extending mandible still attached, perhaps an ironic real world realization of Giger's joining of organic creature and machine. But Giger's oeuvre goes far beyond this familiar icon, paintings, sculptures, furniture, and interior design fill three floors of black walls with the mysterious, shocking and fascinating around every corner. HR Giger's Oscar for his work on "Alien" is on display here, too and upon entering, Giger's ghost like figure stares down into your eyes daring you to journey into his world.
HR Giger Museum Bar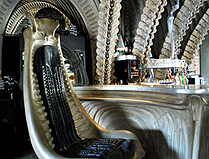 If viewing HR Giger's imagination isn't enough, why not be swallowed by it. Across from the museum entrance is the HR Giger Bar, where a beer, alcoholic libation or meal can be ingested within the belly of some fantastical alien creature. Giger designed a bar in his hometown of Chur on the other end of Switzerland (see Giger Bar Chur) rather in the form of a spacecraft cafe, of crisp futurist silver steel and black. The HR Giger Museum bar in Gruyeres, which Giger built much of himself, is a sculptural experience of white fossilized skeletal alien innards, crossing vertebrae arches over skeletal plate "Dune" inspired "Harkonnen" bar chairs, of boney spinal cord backs much like the world of that mummified giant space pilot now long vanished in black smoke. The design seems melded to the ancient castle walls with nooks of baby heads looking out on the tourist village outside.
Visiting HR Giger Museum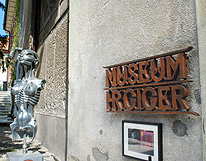 The Museum HR Giger in Gruyeres is open every day 10am to 6pm April to October. 1pm to 5 pm Tuesday to Friday in the winter months November to March. The HR Giger Bar is open from 10am to 8:30pm daily. Both are closed on Mondays during winter. Admission for adults is 12.50 CHF (€8.20), Students and Seniors 8.50 CHF and children 4 CHF. A combined ticket for the HR Giger Museum and the Gruyere Castle is available for 14 CHF. There is no age restriction for the museum and kids will certainly find HR Giger's work fascinating, but be warned of the sexual and near pornographic themes on display – lest you find bizarre creatures taped to the refrigerator as your budding artists are inspired to explore their own fantastic nightmares. © Bargain Travel Europe
Reviews and best travel deals for Gruyeres-Fribourg
Book tickets on the Chocolate Train from Rail Europe
Web Info
Giger Museum
HR Giger
These articles are copyrighted and the sole property of Bargain Travel Europe and WLPV, LLC. and may not be copied or reprinted without permission.

SEE ALSO:
SWITZERLAND BY RAIL - CHOCOLATE TRAIN