KLEIN MATTERHORN CABLE CAR
Breathless Alps Mountain Views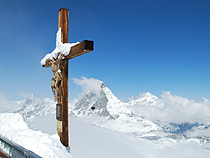 Breathless seems the best word to describe a trip to the top of the Klein Matterhorn, both the breathtaking views of the Alps and the thinness of the air. The "Little Matterhorn" is a solid rock peak next to the famous mountain with a shape that mimics its bigger brother and at 3883 meters (12,740 feet) the highest point in the Alps that can be reached by cable car. In December of 1979 a cable car lift was completed from the upper end of the Matterhorn Valley at Zermatt to the top of the Klein Matterhorn. The ride requires three separate cable rides with changes at the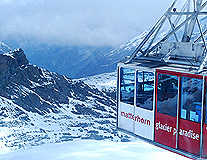 Furi and Trockner Steg stations. The final cable arrives at a tunnel through the solid rock of the mountain. The final journey to the peak viewing platform is by an elevator and final stair. From the panoramic platform at the very peak the views of the mountains over glaciers reach from Bernese Oberland beyond the Swiss Valais to Mont Blanc in the French Alps to the Po River watershed in Italy. Ranges. The Theodul Glacier spreads out a permanent blanket of white between the Klein Matterhorn and the Matterhorn peak often crowned with its own weather system.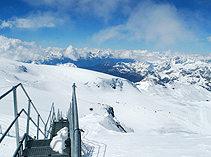 The Klein Matterhorn is the crown of the ski area now referred to as the "Glacier Paradise" with skiing in winter and summer on the glacial snows and one of the largest ski areas in Europe, with trails and lifts systems over the Zermatt-Cervinia ski area range. But for non-skiers a trip to the top of the "Little Matterhorn" is unforgettable. Aside from the peak views, an Ice Cave provides a trip down into the eternal ice of the glacier, delicate
ice crystal ceilings, color-lit crevasses and with ice sculptures in the network of caves which must be continually re-hand cut as the glacial ice moves. Other mountain peaks with cable or train access have ice caves, (see Jungfraujoch Highest Rail Station and Mt Titlis Rotair Cable), but the ice cavern at the Klein Matterhorn has the distinction of two "floor" levels with carved ice stairs between. A snack bar and ski service at the end of the tunnel provides a chance to catch the breath before returning to the less rarified terrestrial air.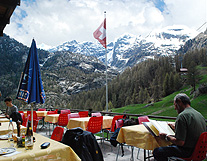 The full aerial tramway cable ride to the Klein Matterhorn summit is not cheap, tickets cost from 61 to 98 CHF for adults and 31 to 49 CHF for children 9-16, depending on time of year (lower in summer), less to the lower stations. A 50% discount is offered with a Swiss Pass. A range of day and multi-day passes are available including other lifts (bergbahns). For skiers, the cable lifts as well as Zermatt village bus transportation are included with a overall ski pass to the Glacier Paradise ski area. In summer it is possible to hike across the glacier to climb the Breithorn or the Matterhorn with guides. If mountain climbing isn't your style, when the snows are gone from the lower slopes, take a hike from the Furi station back down the Matterhorn Trail to Zermatt, through the green meadows, past ancient mountain villages of 400 year old log cabins, and stop at one of the several mountainside restaurants perched on the hillsides below the peaks.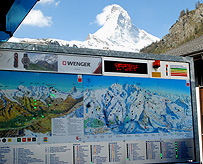 To get to the Glacier Paradise cable station is a ten minute walk through the Zermatt Village along either side of the stream through the valley. In any season, a trip to the top of the Klein Matterhorn can be potentially obscured in fog or stormy weather and not worth the full trip. A detailed board of the network of lifts and cable cars at the station provides information on conditions of the various lifts of the Zermatt-Matterhorn area. But if the sun shines when you're in Zermatt, take the journey to loose your breath and touch the sky. © Bargain Travel Europe
Search best travel deals in Swiss Alps on TripAdvisor
Take the Glacier Express
Zermatt to St. Moritz
Web Info
Zermatt/Matterhorn
These articles are copyrighted and the sole property of Bargain Travel Europe and WLPV, LLC. and may not be copied or reprinted without permission.

SEE ALSO:

GLACIER EXPRESS SCENIC RAIL
HOTEL ALEX -ZERMATT

WALLISERHOF CHALET HOTEL - ZERMATT
GLACIER 3000 CABLE - LES DIABLERETS