WILLERSLEY CASTLE HOTEL
Derwent Valley Retreat in The Peak District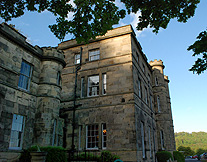 Willersley Castle in the Derwent Valley of the Peak District is a 200 year old historic manor house, built for the innovative industrialist Sir Richard Arkwright who sparked the industrial age in Britain with his water-powered cotton mills on the Derwent River. This late 18th Century mansion designed in the Georgian style sits on a hillside overlooking the gorge of the river on grounds of sloping green meadows, thick woods and dramatic limestone crags.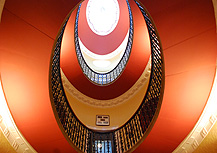 The facade of the castle is a little stark and formal, made of the grey stone of the surrounding hills, but many of the original elements of the 18th Century country manor can still be seen today. The most striking feature of the house is the Well Gallery, an oval shaped gallery with a glass dome in the center of the building high above the ground floor creating rather a dizzying optical illusion, with cantilevered galleries on the first and second floors. Leading through the house to the Wells Gallery is an Adams archway, while the Drawing Room, the Music Room, and Dining Rooms all have original Adams fireplaces.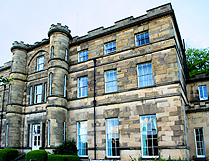 The construction of Willersley Castle in began in 1790, commissioned by Arkwright as a suitable home for his growing wealth, but died before it was completed. His son, also named Richard, completed the housed and lived there with his family in the 1920s, when the building served as an auxillary hospital for WWI veterans. The mansion was acquired by a group of Methodist businessmen in 1927 for use as a Methodist Guild Holiday Center. The hotel is still owned and operated by the Methodist Christian Guild and serves as a holiday retreat, but you don't have to be of any particular faith to stay there.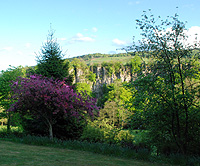 The location makes for a beautiful base for exploring the Derbyshire Dales and the Peak District National Park, with the hills and valleys of Derbyshire excellent for hiking and climbing, and the World Heritage Site of the Derwent Valley Mills just down the hill. Other midlands attractions are within an easy drive. On the grounds are forest and riverside walks, an area for ball games and a rose garden. A private gate and footpath leads to Matlock Bath.

The Willersley Castle hotel has 30 bedrooms in the mansion and 14 more bedrooms located in the former mews for accommodation up to 86 guests. There is a lift in the castle for access to the first and second floor bedrooms. Definately reserve ahead as the Willersley Castle Hotel is quite popular and can get booked up with groups.© Bargain Travel Europe

Find best hotel and holday deals in Peak District
Web Info
Christian Guild Willersley
These articles are copyrighted and the sole property of Bargain Travel Europe and WLPV, LLC. and may not be copied or reprinted without permission.
See Also:
CRICH TRAM MUSEUM VILLAGE - MATLOCK
WEDGWOOD MUSEUM - STOKE-ON-TRENT

CHURNET VALLEY RAILWAY - STAFFORDSHIRE