KRAFFT HOTEL AM RHEIN – BASEL
Historic Rhine River Views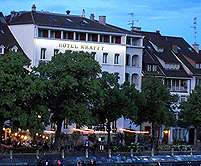 The Hotel Krafft in Basel first opened in 1873 on the sunny north bank of the Rhine river, looking out across Basel's Middle Bridge toward the old town and has been an attraction for writers, artists and romantics as well as the business visitor ever since. One of the first hotels in the Altstadt Kleinbasel to serve the international tourist quarter along the Rheingasse fronted by the riverside promenade, the Krafft is stylish historic boutique hotel, meticulously renovated, with 48 rooms and 4 junior suites in the original building and 12 additional rooms in an annex across the street.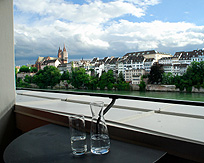 Perhaps the most attractive feature of the Krafft is its unique location across the river from the Old Town's Rathaus and Münster. The river views from small private balconies where you can sit and watch the boat traffic cruise past (see Basel Middle Bridge). It's not surprising the hotel drew the romantic and the literati, contemplating the kaleidoscopic changing colors of the river as it plays with the sun and against the drifting clouds of the sky. When the weather is clear, open the doors to let the atmosphere envelope you, or close the weather tight balcony doors and the room falls quiet. The most noted author who made the Krafft a home away from home was Herman Hesse who wrote much of "Steppenwolf" in a balcony room on the 4th floor. The rooms and suites feature an elegant mixture of vintage and modern fixtures, while antiques and oriental carpets adorn the public spaces. A lounge on each floor offers a station with complimentary tea of coffee and fresh icy water from the Alps.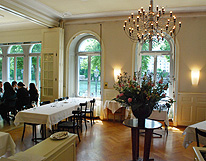 The Krafft Hotel is as known for its Gault Millau points rated Petit Bâle Restaurant, featuring French and Swiss cuisine in a dining room overlooking the Rhine and the more intimate Zem Schnoogeloch Restaurant (Mosquitos Den) on the promenade level. The Bar Consum, located on the ground floor of the annex building is a lively and popular local hangout. To get to the Krafft Hotel takes a tram ride from the main station to the Rheingasse stop. With a stay at the hotel comes a Basel ticket for free use of all public transportation in town during your visit, but much of charming Basel you can enjoy on foot. A short stroll down the river bank leads to the famous Baseller Boatmen Ferries, hand drawn ferry across the Rhine (see Basel Rhine Ferries) to the Cathedral or the fascinating museum of papoer and printing (see Basel Paper Museum). © Bargain Travel Europe
Book a deal at Hotel Krafft Basel
Read reviews of Hotel Krafft am Rhein

Or find best travel deals for Basel on TripAdvisor
Web Info
Krafft Hotel
These articles are copyrighted and the sole property of Bargain Travel Europe and WLPV, LLC. and may not be copied or reprinted without permission.
SEE ALSO:
PUPPENHAUS - BASEL DOLLS HOUSE MUSEUM
MUSEUM OF MUSIC AUTOMATONS - SEEWEN