WANT TO REALLY SAVE ON HOTELS?
TAKE THE NIGHT TRAIN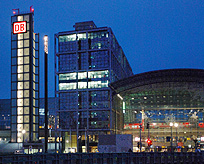 The secret of European travelers from backpackers to the ever frugal Swiss. If you think the Scots have a reputation for saving pennies, the Swiss didn't leave holes in their cheese for nothing. For those traveling around Europe wanting to see different cities and not taking the packaged "if it's Tuesday, this must be Belgium" bus tour, get a Eurail pass (see Is Rail Pass Worth it) and take the night train. Instead of arriving in your destination city at the end of the day and checking into an expensive hotel, just to unpack and nod off. Sleep on the train and arrive in the morning to begin your explorations.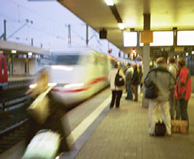 For a few extra Euros, on trips between distant cities (at least 5 hours apart by regular schedule) the train services operate special Night Trains with sleeping arrangements, the City Night Line (see City Night Line Sleeper Trains). Three to four levels of service are offered. For a rather expensive price you can have a private compartment in first class. But if you're minding the travel budget, this misses the point. For a very modest charge of about 15 Euros over the fare you can take a Second Class 4 berth or 6 berth compartment, drowsing with fellow travelers. The former cramped berth cars are being replaced by new especially designed updated cars with luggage compartments to avoid the assorted luggage crammed into the corner. There is very little ceremony. You sleep in your clothes, tucking your shoes into the corner of your space. But if it can save 150 Euros on a hotel night, who hasn't spent a night on Uncle Charlie's couch. If you want to save even more, you can also take the sitting car, provided with special reclining seats. There are some special hotel trains on certain routes that are more formal than the standard night train. Should you want a little more privacy or comfort and are travelling with a Rail Pass (First Class) you can get a compartment with a shower and its own bathroom at less than a hotel room would cost (see Night Train From Dresden).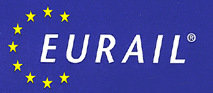 The savings advantage is clear. However, there are a few drawbacks to consider if you're thinking of the Second Class low cost travel option. Get to your assigned berth quickly or you may be the one sleeping on your suitcase. The regular travelers will be first to get there, so know which car you're on. Taking the train at night, you do miss any scenery that might otherwise pass the window. So, this might be best if you're traveling a route you've already seen or are willing to miss. And to make the schedule work out, many of these trains park themselves somewhere for a few hours in-between destinations. This can be a little troublesome if you're the type who can't go to sleep at nine o'clock. But you can get out and take a stroll in the environs of the train station which might not otherwise be on your intinerary. And no matter where you go, there always seems to be two or three Swiss guys with leather pants and thick warm socks traveling together with their lunch in a plastic bag of oranges, a little sliced meat and cheese with holes. © Bargain Travel Europe
Get Eurail Passes
DB Night Train - Rail Europe Fares and Schedules
Web Info
DB Germany Rail
These articles are copyrighted and the sole property of Bargain Travel Europe and WLPV, LLC. and may not be copied or reprinted without permission.
RAIL EUROPE TGV, TOURS & RAIL PASSES FOR FRANCE

SWITZERLAND SCENIC TRAINS

EUROPE HIGH SPEED TRAINS - TGV - ICE

BUDGET FAMILY TRAVEL - KIDS FREE WITH A RAIL PASS