AIR BERLIN
More Flights to Dusseldorf and Berlin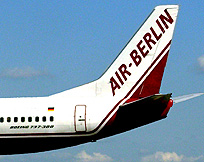 AIR BERLIN, the second largest German airline has recently joined the OneWorld Airline Alliance, now operating codeshare flights with American Airlines from the US to its hub airports in Düsseldorf or Berlin connecting through New York, Miami, Los Angeles and San Francisco. Air Berlin exclusively flies Airbus 330 across the Atlantic with two classes, business and economy. The airline, which recently celebrated its 50th birthday, also flies to Dusseldorf and Munich from Ft. Myers, Toronto and Vancouver, with connections to destinations around Europe and the world (see Air Berlin Two Cities For Price of One).
Duesseldorf - Gateway to Germany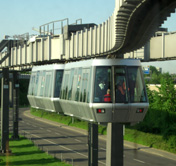 Well known to the business community as a destination for conventions and connections to the German industrial and economic Ruhr valley, Duesseldorf is also known as Germany's fashion capital (see Dusseldorf on the Rhine) and Dusseldorf International Airport is a convenient gateway to the upper Rhine region, Belgium and Luxemburg. High speed ICE trains can reach Hannover in two hours and Berlin in four hours (see Berlin to Hamburg). The airport's futuristic "SkyTrain" suspended monorail transfers you from the airport to the main train station in five minutes.
If you're not traveling for business, but want an alternative to the other more familiar German destinations, the area around Dusseldorf offers a variety of unique vacation activites and sights for history buffs, the romance traveler or families. As the capital of Germany's most populated state, Dusseldorf has several world class museums and the famous "Kundstakademie" an outdoor art school on the edge of the old city aldstadt. Neanderthal Man was discovered near Dusseldorf in 1856 and Mettman Neanderthal Museum (see Caveman Discovery Neanderthal) is dedicated to our old relative who lived in the area 30,000 years ago. For more ancient history, visit the Roman era archeology park at Xanten. Cruise the Rhine River to Coblenz or Mainz (see Mainz Cathedral and Culture of the Rhineland) through the spectacular medieval castle lined gorge of the Middle Rhine (see Rhine Castles Eherenfels and Sooneck ).
Visit the wartime factories and sights of Essen the heart of Germany's 20th Century industrial might (see Secret War Factories), tour the magnificent Gothic Cathedral of Cologne "Koln", recognized as one of the wonders Gothic Architechture. In February Dusseldorf has its own version of Carnival, called the "Fifth Season" when streets are clogged on "Rose Monday" by gigantic street parades when the "Narren" rule the Rhineland (see Cologne's Carnival Crazy Days). ©Bargain Travel Europe

Air Berlin International Airways Worldwide Hub Airports

Africa
Cape Town South Africa
Monastir Tunisia

Asia
Bangkok Thailand
Phuket Thailand

Caribbean
La Romana Dominican Republic
Puerto Plata Dominican Republic

Europe
Dusseldorf, Germany
Munich, Germany
Berlin, Germany

Mexico
Cancun

Middle East
Hurghada Egypt
Luxor Egypt

US and Canada
New York, New York
Miami, Florida
Fort Myers, Florida
Los Angeles, California
San Francisco, California
Toronto, Ontario
Vancouver, British Columbia
Find best hotel and vacation deals in Dusseldorf
Web Info
Air Berlin
See Also:

GRAB YOUR PITCHFORK
Monsters And The Women Who Create Them

HEADLESS KNIGHT, SLEEPY NIGHT
Burg Reichenstein - the Castle next door