MUNICH WALKING TOURS
Hitler's Nazi Bavaria History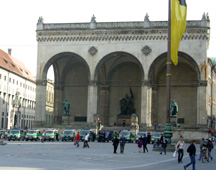 Bavaria is where the Third Reich got its start. In 1913, Adolf Hitler arrived from Vienna with all his personal baggage packed into one suitcase. He painted post cards and sold them on street corners to tourists to get by. After volunteering in WWI, he joined a nascent right-wing political group called the German Worker's Party which after he took over as its leader (Fuerer) the name was changed to the National Socialists German Workers Party (NAZI) and the rest they say – is history.
And if you want to follow the trail of the growth of this movement, which driven by the anti-semetic fears of passion plays performed in the Bavarian hills of Oberammergau depicting Judas as the evil jew intertwined with the myths of Norse legends and imagined virtues of Teutonic knight chivalries (see Schloss Neuschwanstein) and links to an imagined master race (the "Aryans" were actually central Asian Mongols, so how confused is that!) lead inexhorably after Hitler's seizing power to the concentration camp at Dachau and its progeny and the ultimate self-destruction of a city and country.
Munich Walk Tours offers a selection of tours exploring the sights of Munich's part in this tragic national passion play. The "Third Reich Tour" takes you from the Nazi movements first mass meeting at the Hofbräuhaus to its failed attempt to sieze power at the Feldherrnhalle (See Self Walk Tour from Marienplatz). Visit the site of mass party rallies at Konigsplatz and the Hofgarten for a discussion of the White Rose resistance. The tour costs 10 euro for adults and children under fourteen with an adult are free. It takes about two and a half hours. They also offer a fully guided tour to the Dachau Concentration Camp Memorial (see Dachau Holocaust Museum) including public transportation for 19 Euro. Both tours meet under the glockenspiel of the Neues Rathaus in Marienplatz and can be taken together for a discount. The Munich Walk Tours also offers walking tours of Munich's breweries and Bike Tours and Bicycle rental for your own tour of this wonderful city rebuilt from the ashes of a dark dream. © Bargain Travel Europe
Compare prices on best hotel deals in Munich
Web Info
Munich Walk Tours
These articles are copyrighted and the sole property of Bargain Travel Europe and WLPV, LLC. and may not be copied or reprinted without permission.
SEE ALSO:
HITLER'S EAGLES NEST IN BERCHTESGADEN

LUFTWAFFE MEMORIES

POLYNESIAN MUNICH

BURG RÖTTELN - BLACK FOREST CASTLE

MAINZ MUSEUMS - ROMAN GALLEONS TO SPARKLING WINE