THREE LONDON MUSEUMS FOR THE PRICE OF FREE
Greenwich Maritime Museum and Royal Observatory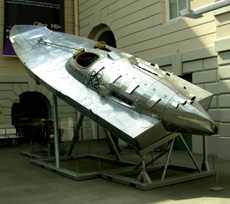 England's National MaritimeMuseum is one of the largest nautical and engineering museums in the world. Located in Greenwich where the Thames makes one of its meandering turns about 30 miles from the center of London. Twenty galleries of ships, seafaring and marine history are spread through the floors of the historic building which was at one time a school for the sons of sailors. Hands-on interactive displays for kids and adults, the uniform worn by Admiral Nelson when he was killed at the battle of Trafalgar which saved England from having to speak French. Wonderful hand-crafted ship models, charts, maps, and a speed racing early jet boat are some of the featured displays of the collection of over 2 million items. Entrance to the museum is now free, thanks to the national lottery.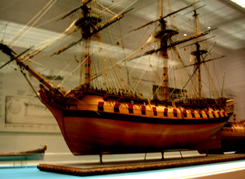 Entrance to Maritime Museum also gets you into two other one-of-a-kind exhibits. The Greenwich Royal Observatory where the keep the world's time. Founded by Charles II in 1675 by international decree, Greenwich is the official starting point for each new day, year and millennium at the stroke of midnight GMT "Greenwich Mean Time". The Prime Meridian which divides the world's time - a reminder of when England was the center of the seafaring world passes through Greenwich. Designed by Christopher Wren, who also designed St. Paul's Cathedral, the building which is split in two by the 0 Longitude line was built as one of the first astronomical observatories and still houses an 1893 refractor telescope, the largest of its kind in Britain. And perhaps inspiration for New York's New Years tradition, a ball has been dropping from the observatory's mast precisely at 1 p.m. since 1833 as a signal to mariners on the Thames to set their time pieces.
Find best deals on London Hotels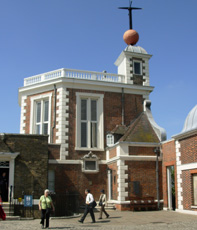 The Queen's House was commissioned by Anne of Denmark, wife of James I, England's king from 1603–25. James was often at the Tudor Palace which was located, where the Old Royal Naval College stands now between the Maitime museums and the river ferry docks. It is tradition that King James gave the manor at Greenwich to his wife in apology for having sworn at her in public, after she accidentally shot one of his favorite dogs while hunting in 1614. Designed by Inigo Jones in 1616 in a Palladian style and completed with the addition of its unique spiral staircase in 1635, the Queen's House is England's first purely classical building, utilizing Renaissance ideas of mathematics, classical proportion and harmony, the house's design was revolutionary in Britain in the 17th century. It has been in its history a royal brothel, a republican official residence and home to a smuggling ring – not all a once, however natural that may seem.

The National Maritime Museums at Greenwich can be reached by Thames boat tour (see From Big Ben to Greenwich Mean) or by the tube and raised rail system through south London's canyon of modern architecture. © Bargain Travel Europe
Find best hotel and vacation deals in London on TripAdvisor
Web Info
National Maritime Museum
These articles are copyrighted and the sole property of Bargain Travel Europe and WLPV, LLC. and may not be copied or reprinted without permission.
SEE ALSO:

TOWER OF LONDON

600 YEARS LORD LEYCESTER HOSPITAL IN WARWICK

HENLEY-ON-THAMES ROWING
STRATFORD, OXFORD AND WARWICK CASTLE
LONDON FIREWORKS NEW YEAR SHOW TICKETS
TREASURES GALLERY AT BRITISH LIBRARY