BEST KARTING GERMANY
Michael Schumacher Kart Center and Austrian Karting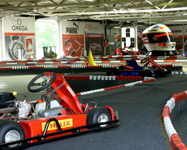 In Germany, where going fast in a car is more a right than a privilege, go kart racing is the venue where many youngsters get their first taste of four-wheeled speed on a pad of asphault. In this dream mecca of auto sport kart racing and rental tracks are almost as numerous as beer gardens. Well, almost. Tracks can be found near almost any city. A visit to any of the major race tracks like the notorious Nurburgring south of Cologne or Hockenheim near Mannheim (see Hockenheimring), when the big track is quiet, the karting tracks are usually abuzz with two-cycle engines. The Friedrichshafen Airport has a cart track, racing underneath the Zeppelins giving rides over Lake Constance (see Friedrichshafen).
Cologne - Michael Schumacher Kart & Event Center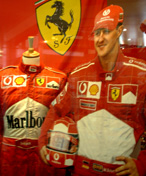 Perhaps the best known kart rental facility in Germany is ten minutes outside of Cologne. As Grand Prix F1 World Champions become once again as changeable as the weather in the Ardennes and Westfalia, the name of Michael Schumacher lives in the record books of the ultimate in consistency. The Schumacher brothers, Michael and Ralf, like many eager kids both got their start in racing at a go-cart track owned by their parents in Sindorf. The track and facility is now named after Germany's most famous racing son.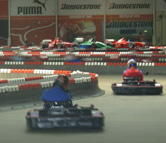 The Michael Schumacher Kart & Event Center is an iconic kart racing institution and one of the most modern kart racing and rental facilities in Germany, located next to the Kerpin Kreuz intersection of the A4 and A61 autobahns in Sindorf, a western suburb of Koln. The facility has an outdoor track of 710 meters of twists and turns, with a covered indoor viewing center, close to the snack bar, or course. The indoor track is a little shorter at 600 meters for racing in any weather, where low slung karts squeal around islands topped by actual Formula One racing cars. They have karts for adults and karts for kids (KinderKarts). Cost is about €10 for 8 minutes on the track and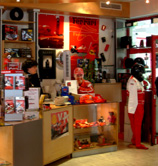 multiple lap passes can be purchased. Competition and group events are also held. And for Michael Schumacher fans, the center has both a museum "The World of Schumachers" and fan shop for all things "Shumi", with Michael Schumacher's championship winning Ferrari Formula 1 race cars on display, along with racing suits, helmets and other memorabilia. There is also an auto racing theme American style sports bar and in the fan shop, an amazing array of auto racing enthusiast stuff can be had, from model race cars to clothes. You might even find something devoted to Ralf amidst all the Michael mania.
Take the A4 toward Aachen from downtown Cologne to the first exit past the intersection with the A61, the left at the Europaring circle past the McDonalds. Public transportation can be taken to Sindorf, but a bit of a walk to the kart center, but anyone can probably point you in the right direction.
Munich
Austrian Karting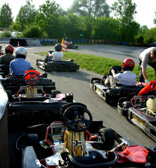 There are four kart tracks in and near Munich. My favorite is the outdoor track of Austrian Karting. Not easy to find, but worth the adventure trip. Located in the suburb of Garching about 15-20 minutes north of Munich, in an industrial area surrounded by BMW parts factories, a turn up Robert Bosch Strasse from route 471 all the way to the end until you think the road stops you find this outdoor kart racing and rental track surrounded by green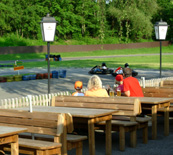 woods. Where most outdoor kart tracks are marked out on a flat piece of parking lot asphault or concrete, the Austrian Kart Track in Munich is like a true road racing course with elevation changes, fast turns and chicanes, all around a beer garden style viewing area. It's best to drive here. You can take the U-Bahn to the Garching-Hochbrück stop, but it's a hike out to the facility. And the outdoor track is probably not so good in winter months. The website has a weather forecast, just in case.
Kart Palast
In the heart of Munich itself is the grand indoor palace of karting, the Kart Palast. With rentals and regular competitions, the Kart Palast is probably one of the busiest go-carting facilities in Germany. Located at Hansastr. 5, southwest of the main train station, the Kart Palast can be reached by underground and a few blocks walk from the Westendstrasse U-Bahn stop. Check ahead for available times as this venue is popular with companies providing group outings for employees and business clients, with "happy hour" after work specials. © Bargain Travel Europe
Find best travel and hotel deals in Germany
Web Info
Michael Schumacher Kart Center Cologne
0 (49) 2273 6019 0
Austrian Karting Garching
0 (49) 89 326 1902
Kart Palast Munich
0 (49) 89 547 0390

Find best hotel and travel deals in Cologne or Munich
These articles are copyrighted and the sole property of Bargain Travel Europe and WLPV, LLC. and may not be copied or reprinted without permission.
See Also:
SINSHEIM AUTO & TECHNIK MUSEUM<
MERCEDES-BENZ MUSEUM STUTTGART