CHURCHILL WAR ROOMS
London's Secret Underground Command Center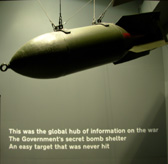 "We will fight them on the land, we will fight them on the beaches, we will fight them from our secret basement underneath the treasury building…" Okay, Sir Winston Churchill didn't exactly mention that last part. That would have been giving away too much probably, but it is indeed true that much of Churchill's war effort during World War II was carried on from a collection of storage rooms and hallways underneath Her Majesty's Treasury Ministry building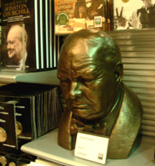 between Whitehall and Horse Guards Road. The Churchill War Rooms now make for a must see visit to London. The claustrophic spaces where Churchill and his ministers strategized while the bombs fell outside in the blitz evoke those dangerous and world changing days. The Churchill War Rooms Museum is the world's first major exhibit dedicated to life of Winston Churchill presenting his personal story from the adventurous young days in South Africa through five periods of his remarkable life, as maverick politician, war leader and cold war statesman.
Winston Churchhill & Battle of Britain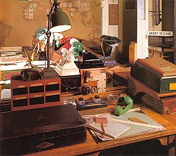 The war rooms demonstrate what is was like to work and survive underground, consisting of the War Cabinet Room, Churchill's bedroom, map room, kitchen, and Churchill's Chiefs of Staff room, where the connection to the outside world was a the indespensible telephone. The BBC also has a small room where they broadcast carefully crafted war reports. A free audio guide is available in 8 languages and the war rooms are wheelchair accessable. There are lectures and events with schedules on the website, and private tours with staff can be arranged (but quite expensive). Admission to the Museum and War Rooms is £11 for adults, £9 for seniors and students, free for kids under 15.
The entrance to the Churchill Cabinet War Rooms is at the Clive Steps on King Charles Street. The easiest way to find it is to go along Whitehall to the horse guard on duty, stop to take a picture, of course, and then follow the sign through the passage. The venue is open daily from 9:30 to 6 pm, but the last admission is at 5 pm.
For more Winston Churchill you can visit his cherished home of Chartwell, south of London in Kent or his birthplace Blenheim Palace in Oxfordshire a few miles from Oxford. Or to see the wartime armored train named for the great "Battle of Britain" Prime Minister go up to York (see York National Rail Museum). © Bargain Travel Europe
Compare the best deals on hotels in London on TripAdvisor
Web Info
Churchill War Rooms
These articles are copyrighted and the sole property of Bargain Travel Europe and WLPV, LLC. and may not be copied or reprinted without permission.
See Also