BATTLE OF THE ARDENNES MUSEUM
Battle of the Bulge History La Roche-en-Ardenne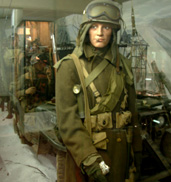 La Roche-en-Ardenne has the distinction of being twice liberated during World War II. The beautiful old town escaped damage in the First World War, but found its river path crossroads right in the middle of the Battle of Bulge. Liberated once by the Americans in the September 1944 allied advance, then retaken by the Germans in the Ardennes offensive and re-liberated by the British and Americans in January
of 1945. In-between the lovely historic old town suffered massive damage, nearly destroyed by 70,000 American artillery shells. Soldiers of the British 30 Corps "Black Watch" Highlanders moved on the town from one side of the Ourthe and elements of the American 1st Army came from the other side and famously met up on a street corner in La Roche, where a plaque commemorates the liberation. A block from the corner is one of the original of the privately owned Battle of the Bulge museums of the area (see Touring Battle of the Bulge Sites).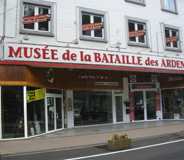 The Battle of the Ardennes Museum (Musee de la Bataille des Ardennes) takes up three floors of a storefront, filled with memorabilia, weapons, uniforms and other history of the war. The museum in La Roche-en-Ardennes has the only complete section dedicated to British soldiers, focusing on their action in the liberation of 1945. 120 display figures of American, British, Scottish and German soldiers with their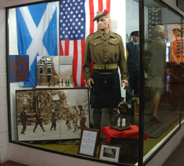 equipment and arms, along with uniforms donated by veterans of the Battle of the Bulge. A room upstairs is dedicated to the British veterans who have returned to visit the site. The collection was originally begun after the war by just gathering up material that was left behind in the Ardennes grew over the years. Items are still found in the Ardennes woodlands today. Among the collection along with the arms, uniforms and insignia is an English Enigma code machine.
Visiting the La Roche Ardennes Battle Museum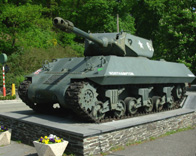 The museum is open Wednesdays to Sundays April to December from 10 a.m. to 6 p.m. and on weekends January to March. Admission is €8 for adults and 4€ for children. A combined admission with the bastiogne Ardenne 44 Museum is avaialbe. Entrance to the town to is still guarded by two tanks left over from WWII, a British Achilles M10 of the 1st Northamptonshire Yeoman and an American M4A1 Sherman tank. The British tank is just a few yards from a memorial Roll of Honour erected to the Scottish 51st Highland Division along the road where the Yeoman armor regiment entered the valley. The tanks are enshrined at parking lots on either end of the town. Perhaps they're there to control the crowds - La Roche-en-Ardennes can get quite filled in summer tour season. © Bargain Travel Europe
Find best hotel and travel deals in The Ardennes
Web Info
Musee Battaille de Ardennes
These articles are copyrighted and the sole property of Bargain Travel Europe and WLPV, LLC. and may not be copied or reprinted without permission.
SEE ALSO:
BASTOGNE BULGE BATTLE FOXHOLES
FLANDERS - WWI TRENCH WARFARE MUSEUMS