VARAZDIN
Croatia's "Little Vienna" Baroque Tourist Capital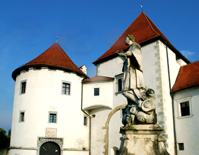 Varaždin was a principal crossroads in medieval Croatia, lying along the ancient land route from the Adriatic north through central Europe. Perhaps it's most famous tourist King Richard, known as Lionheart, more for his military prowess than for his interest in his subjects, disguised as a pilgrim among his retinue of Templars, stopped in Varazdin under the protection of the monastery of the Knights Hospitaller just before he was captured near Vienna and held for ransom by the Leopold V the Duke of Austria. Varazdin today is one of the most popular tourist destinations of northeast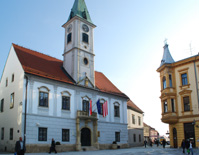 Croatia, about 40 miles north of the modern capital of Zagreb, on the right bank of the Drava River which flows through the region of green hills near the Slovenia border. The city's restored medieval castle surrounded by the high green burms of a former deep moat, now houses the city's historical museum and butterfly and insect collection. The medieval walls and monastery are mostly gone, with some remnants and gates remaining. Craft shops populate the former monastic lanes. Varazdin's central old town with many buildings takes pride as a Baroque city, thought of as Croatia's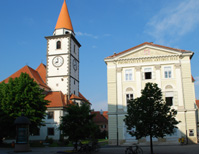 "Little Vienna". A few buildings date from the Renaissance like the 16th century Town Hall on the broad main square of sidewalk cafes. The city flourished with wealth as the region's capital city in the 1700's populated with ornate baroque era churches. On holidays and special occasions the historic "Purguri" the blue grenadier uniformed Old Town Guard first begun under Empress Maria Theresa come out on parade . The city streets and green parks blossom with flowers and bicycles in the spring.
Horticultural Cemetery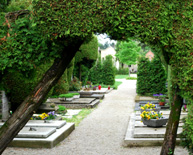 Varaždin 's City Cemetery is unique among its kind as a horticultural monument as well as resting ground, a curious and haunting combination of garden paths and graves. First established as the city's cemetery at the edge of town in 1773, the idea of turning it into a green park was planned in 1905 by landscape designer Hermann Haller, where a walk among the lanes finds the trees and arbor vitae have embraced the headstones and mausoleums.
Spancirfest
For ten days at the end of August Varaždin opens its streets to Spancirfest - a wild festival of musicians, artists and entertainers from cultures around the world when the whole city becomes a stage for African-Cuban Jazz, Scottish Celts, Kozacks, Spanish Flamenco Argentinean Tango, acrobats, puppeteers, stilt-walkers and children's performances.
Baroque Evenings
In September come the Varazdin Baroque Evenings, a festival of baroque music played by local and international musicians under the gilt gold and frescoes of the Jesuit Church, held in concert with the Days of Baroque Cuisine, a concurrent program of dishes based on 18th Century recipes.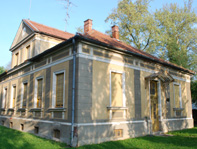 Though not readily pointed out by the tour guides, near the city's old castle and the former monastery walls and streets of crafts artists you find a remnant of the communist era, mostly forgotten, the state radio station which used to broadcast the state approved news of the days when Yugoslavia's Marshall Tito was still the man in charge and whose birth place is not far away (see
Marshall Tito Birthplace Museum
). Day trips from Varazdin can take you to hikes in the lush hills the Zagorje region, the Heritage Hiking Trail through Varazdin County, wine vineyards, fishing on the River Drava, or to Croatia's "Romantic" Castle (see
Trakoscan Castle
) or hang gliding from Croatia's highest mountain, Ravna Gora.
Where to stay in Varazdin. The modern
Turist Hotel
located two blocks from the old town, is popular with tour operators and has its own casino. Or out of town the
Castle Gjalso Hotel
is a more country romantic getaway.©
Bargain Travel Europe
Find best hotel and travel deals in Croatia on TripAdvisor
Web Info
Croatia Tourism
These articles are copyrighted and the sole property of Bargain Travel Europe and WLPV, LLC. and may not be copied or reprinted without permission.
SEE ALSO:
ZRINSKI CASTLE MUSEUM - MEDIMURJE CAKOVEC
HOTEL RESTAURANT CASTLE GJALSKI - ZAGORJE