HOTEL CASTLE GJALSKI - KRAPINA-ZAGORJE
Croatian Author's Country Manor House Hotel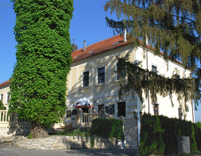 The Hotel Castle Gjalski and Restaurant (Dvorac Gjalski Gastronomie - Curia Nobilitare Gredicze) makes for a convenient and comfortable central location to explore the Krapina-Zagorje countryside of Croatia. From the main highway, 20 minutes north of Zagreb it looks like a roadside motel, with a large sign just saying "Hotel Restoran" (Hotel-Restaurant), but upon closer inspection the Hotel Castle Gjalski offers a very pleasant surprise. A small and elegant 19th Century manor house of the Croatian gentry, the "castle" gets its name from Croatian novelist and politician Ksaver Šandor Gjalski who was born here in 1854 and owned it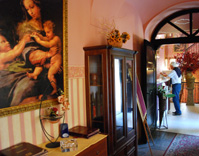 until his death in 1935. His best known work "Under Old Roofs" was a collection of short stories accounting the economic decline of the Croatian aristocracy to which he belonged. His writing was said to connect the romanticism of the 19th Century to the modernism of the 20th from his love for the rural countryside of the Hvratsko Zagorje region of north Craotia meeting a larger European cultural view. Gjakski's presence is still felt in the upstairs lounge where photos and art connect the house's current life as a hotel with its historic past.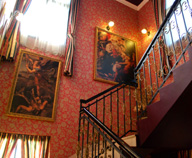 The sixteen bedrooms of the hotel are all in the mansion itself on upper and lower floors. The grand reproduction art and antique style furnishing filled hallways, rich woods and wallpapers, while not original, retain the 19th Century romantic flavor. The hotel has a popular restaurant on the ground floor serving local Croatian dishes and an outdoor patio with fountains and green space for enjoying a drink of local wine or beer under the Stella Artois umbrellas. In the early evening, the fresh air of the Zagorje hills mixes with the aroma of a roast lamb on the spit in the restaurant's open hearth cook house, where the wood fired coals begin early for long slow roasting. Single rooms start around 60 euro including breakfast, double rooms slightly higher.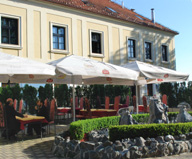 If traveling by car, the advantage of the hotel's location with its large sign makes it easy to find if vacationing in the unfamiliar hill lands of Croatia, where the back roads can be a bit daunting for the uninitiated. The Zagorje-Krapina region of Croatia offers a variety of opportunities for exploring with a lot to do packed into a relatively small area. The castles of Trakoscan (see Romantic Castle Trakoscan) and Veliki Tabor, the antique thermal spring spa of Tuheljske Toplice with its massive family recreation center and swimming pool, the ethno village of Kumrovec with its Marshal Tito Museum (see Tito Birthplace Kumrovec), the Church of St. Mary in Belec, the Archeological Park of Husnjakovo, the Bedekovcina Lakes and Croatia's "Baroque City" of Varazdin (see Varazdin "Little Vienna"). © Bargain Travel Europe
Book a deal at the Hotel Castle Gjalski

Find best hotel and travel deals in Croatia on TripAdvisor

These articles are copyrighted and the sole property of Bargain Travel Europe and WLPV, LLC. and may not be copied or reprinted without permission.
SEE ALSO:
ZRINSKI CASTLE MUSEUM - MEDIMURJE CAKOVEC

OSIJEK - TVARDA FORTRESS & NIGHTLIFE
VINARIJA ZDJELAREVIC - WINE TOURING HOTEL
STAY IN A CROATIAN CONVENT - LUZNICA CASTLE