FAT TIRE BIKE TOURS BERLIN
Bike Rental and Tours - Seeing Berlin By Peddle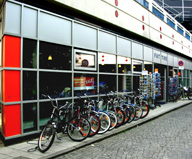 Berlin - it's exciting, new, thrilling, hip and huge. Since the two Germany's reunited and Berlin became once again its capital, the city has been reinvigorating itself - museums, nightlife pubs and clubs. You want to go, explore, but ask "what if I don't speak German?" can I get around if I only speak English. The easy answer - Fat Tire. Go to the big Berlin TV Tower at the Alexenderplatz where you'll find the main office of Fat Tire Bike Tours tucked away under its silver knob. Fat Tire Bike Tours is foremost a bike rental service which has sites in a number of European cities. The guides are young, enthusiastic mostly former or current students from the US, Great Britain or Australia living in Berlin who know their way around. You can rent a bike for your own personal mode of getting around Berlin, or take one of their many themed group bike tours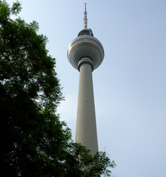 All-in-One City Tour, catching the major sights to see – the Nazi Germany 3rd Reich History Tour which includes the "Valkyrie" 1944 Memorial site (see Bendlerblock Valkyrie), the Berlin Wall and Cold War Tour which retraces the wall and Soviet influence over East Germany (see Fall of the Wall Anniversary) - and a tour to Potsdam for the great Sansoucci Imperial Palace and Orangerie as well as Prussian and Cold War sites (don't worry, you don't have to ride all the way there – that's what trains for). For nightlife and bar hopping when the night goes dark, they also are the meeting place for one of Berlin's famous Pub Crawls the Insomniac Nightlife Tour – free beers and shots while stumbling through the long nights of Berlin party bars (May through October). The Fat Tire Bike Tour people will even do your laundry for you while you're off on one of their tours or renting a bike. Okay, it's not for free, socialism went down with the wall, but certainly a convenience if you're a hostel type, carrying around a backpack full of sticky socks.
A bike rental for a day is 12€ with discounts for additional days. They have trailers and seats for kids and up to date well kept equipment. Tours prices range from 26€ for the in-town tours to 46€ for the Potsdam Excursion (including train fare and palace entrance). Even if you don't want to take a tour or rent a bike, and just looking for a friendly English speaker to point you in the right direction, stop by. They can direct you to some Berlin walking tours as well. Fat Tire Bike Tours has two locations in Berlin. At the Travel Point location under the TV Tower run by Wolf and Susann the main tours and services are on offer, including internet access and wireless hotspot, while at the Zoolischer Garten Rail Station they just rent bikes. And they're so confident of their tours, if you're not satisfied, they'll give you a refund. If you want to go up the TV tower before or after a tour, they have discount tickets, but give yourself an extra hour. © Bargain Travel Europe
Find best hotel and vacation deals in Berlin on TripAdvisor
Web Info
Fat Tire Berlin
These articles are copyrighted and the sole property of Bargain Travel Europe and WLPV, LLC. and may not be copied or reprinted without permission.
See Also:
REICHSTAG GLASS DOME - TOURING VIEWS
CHECKPOINT CHARLIE BERLIN WALL MUSEUM
OSTEL - BERLIN'S GDR DESIGN HOSTEL

AQUADOM - GIANT AQUARIUM AT THE RADISSON BAR

BERLIN'S ODYSSEY HOSTEL - FRIEDRICHSHAIN
BRANDENBURG GATE NEW YEAR'S PARTY IN BERLIN