WINTER RESORTS OF LAKE GENEVA REGION
Ski above Switzerland's Beautiful Lake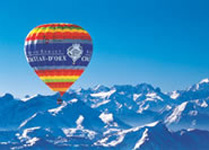 Lake Geneva (Lac Leman) is famous for it paddle steamers and grand and glorious Bel Age Riviera towns of summer, but in winter when the snow frosts the Alps peaks in a blanket of snow glimmering in the crisp water, the Geneva Lakeland becomes a winter playland for skiers, boarders and even hot air balloons - with special savings for families.
Château-d'Oex near Gstaad is the capital hot air balloons in January, thanks to its special microclimate, over a hundred worldwide hot air balloon enthusiasts come to Château d'Oex for the International Balloon Festival (see Chateau D'Oex Winter Balloon Festival), but if fast slopes rather than bags of air float your boat - a fixed price for skiing gives access to over 250 km of runs, including the Gstaad Mountain Rides and Glacier 3000 area. The downhill ski slope offer alternatives for every level. For the kids, the snow garden is the ideal place to learn to slide while having a blast. Snowshoe enthusiasts have over 40 km of marked trails, and for those who prefer speed low to the snow, a 4 kilometer sledge run connects the upper Domaine de La Braye to the intermediary station. Families will particularly appreciate the winter sports offers in Rougement, where all children under 9 are admitted free on the ski lifts and enjoy reduced accommodation rates.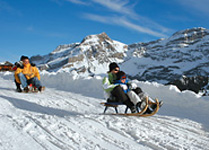 Les Diablerets – Glacier 3000 - located at 1,200 meters in the Alps of the Lake Geneva Region, Les Diablerets features a broad range of winter sports - skiing, back country, tobogganing, ice skating and curling. The Les Diablerets Region offers three ski areas - Isenau, ideal for families, children and beginners; Meilleret, with easy and average difficulty runs. The Glacier 3000 ski area includes 25 kilometers of runs at altitudes ranging from 3,000 to 1,350 meters. The Combe d'Audon slope is one of the longest and most demanding challenge for any skier. With its "Monsterpark" Glacier 3000 provides good snow as early as November. Its Big Mama run will set every snowboarder and free skier's heart beating a little faster. Next to the Meilleret chair lift, the Fun Park with its sledge lift is a great place for families, with night operation four days a week. Families will especially appreciate that children under 9 are admitted free on the ski lifts as well as in some lodgings.
The Les Mosses – La Lécherette Plateau - this Alps plateau offers a downhill skiing area, as well as a vast network of cross-country ski runs and several trails for snowshoe walking. The quaint little village provides a cozy winter hideaway less traveled. The Nordic area boasts cross-country ski runs and snowshoe trails. On the Pra-cornet plateau the Espace Nordique is a privileged area with its own refuge, accessible only to cross-country skiers and snowshoe walkers. The downhill ski area of Les Mosses-La Lécherette ranges in altitude from 1,450 to 1,870 meters offering 40 kilometers of runs and 13 ski-tows. A treadmill, mini ski-lifts grouped together in the snow garden, and progressive ski-tows allow for learning to ski while gaining self-confidence, making the area a favorite for beginners and families. The Les Mosses-La Lécherette ski area is connected to Leysin by shuttle bus together with over 100km of ski runs. Children under 9 can ski for free and are accommodated in their parents' room free of charge.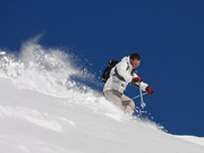 Leysin - More than the altitude, what is breathtaking at La Berneuse above Leysin is the view of the Mont Blanc, the Dents du Midi, the Eiger, and de Mayen. The solar powered revolving restaurant at Kuklos presents a magnificent stunning panoramic mountain view while keeping warm. Leysin has many sports activities to offer including downhill skiing and snowboarding. There are fifteen slope runs from the summits to the village. Thanks to snow cannons the descent all the way down to the village continues through the season. There are easy slopes for kids and for snowboarders and thrill skiers, Leysin has a special area reserved for freestyle with a snow park, a super-pipe and a permanent snow-cross trail. The Tobogganing Park next to the skating rink and offers up to 12 runs for young and old. Inner tubes and Toboggans slide a track comparable in bobsledding – built by Olympic-medal-winner in tobogganing, Silvio Giobellina.
Joux Valley in the Jura - to the west of Lake Geneva in the Jura mountains, the Joux Valley is the land of cross-country skiing and snowshoes. Over 220 km of runs above the valley fog and under the sun, snow covers the hilly countryside of the Jura sector near Geneva, allowing intense moments of communion with winter's nature, silence and the biting cold. During intensely cold winters Lake Joux freezes over completely to become a huge, natural skating rink, and regardless of the weather, the indoor skating rink of the Sentier Sports Centre ensures high-quality ice all winter long. Travel and ski packages are available through the Lake Geneva Region tourism bureau. Geneva is the nearest airport or rail from Zurich is under two hours. With a Swiss Rail Pass (see Swiss Pass Value) travel between the resorts for variety. © Bargain Travel Europe
Find best travel deals for Lake Geneva on TripAdvisor
Get Swiss Rail Pass

or
Swiss Pass Canada
Australia
Web Info
Lake Geneva Winter
These articles are copyrighted and the sole property of Bargain Travel Europe and WLPV, LLC. and may not be copied or reprinted without permission. Photos courtesy Switzerland/Lake Geneva Tourism.
SEE ALSO:
OLYMPIA BOB SLED RUN - ST MORITZ-CELERINA
PADDLEWHEEL CRUISING LAKE LEMAN
CHATEAU D'AIGLE WINE MUSEUM

PATEK PHILIPPE WATCH MUSEUM GENEVA
IS SWITZERLAND TRAVEL EXPENSIVE?