CLIMBING BIG BEN
Visiting Parliament and the Clock Tower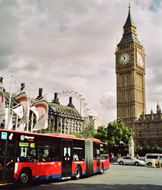 Big Ben isn't actually the name of the clock, but actually only the nick name of the largest bell in tower of the world's most famous clock, which is part of England's Parliament building on the edge of the Thames River. The bell is officially named the Great Bell and the tower just the Clock Tower. The bell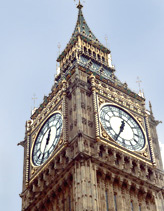 most likely got its nickname from the works commissioner who supported its installation, Sir Benjamin Hall, but is also possibly named after a famous heavyweight champion boxer of the time, Ben Caunt. The bell was cast by Warners of Norton near Stockton-on-Tees, and is actually the second bell. The first one cracked under testing. The big bell was pulled across the Thames River bridge by sixteen horses and winched up the town on its side. The Big Ben bell first rang on July 11, 1859. The big bell rings with four other quarter bells which form the London clock's famous chimes.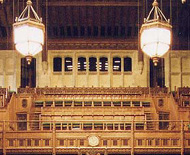 England's Parliament is open to visitors where one can watch debates and attend committee hearings, tour the buildings of the massive complex in the heart of Westminster or climb the famous Clock Tower and see the Big Ben bell, but during the anniversary period due to demand, tours up the bell tower are restricted to UK citizens, and even only those who can show a true interest in clocks. There is no charge, but booking in advance is necessary (3 months) and must be made through the office of a Member of Parliament. Tour participants must gather in the foyer of Portcullis House 15 minutes before the tour time. The tour takes an hour and quarter and requires climbing.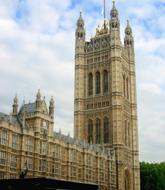 Foreign visitors can take a parliament tour during the summer opening. Tickets can be bought online through www.ticketmaster.co.uk or by phoning 0844-847-1672. During Parliament session both UK Residents and foreign visitors can attend debates in the Houses of Parliament in the public galleries. Tickets are not required. A first come - first served line forms outside the St Stephen's entrance. Expect a wait of one to two hours. The wait for the House of Lords is usually less, basically because the Prime Minister speaks in the lower house. © Bargain Travel Europe

Find best hotel and vacation deals in London on TripAdvisor
Web Info
Visiting Parliament
These articles are copyrighted and the sole property of Bargain Travel Europe and WLPV, LLC. and may not be copied or reprinted without permission.
See Also:
LONDON SIGHTSEEING BY BUS TOUR

LONDON EYE OBSERVATION WHEEL
CHURCHILL MUSEUM AND CABINET WAR ROOMS
TOWER BRIDGE OF LONDON EXHIBITION
SHERLOCK HOLMES MUSEUM LONDON - 221B
THE QUEEN'S GALLERY AT BUCKINGHAM PALACE