WINERY HOTEL STUPNIČKI DVORI
Wine Touring Hotel in Brodski Stupnik - Slavonia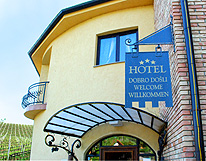 Croatia probably doesn't come to the top of one's mind when thinking of wine country touring and tasting, yet Croatia has a vibrant and active wine growing industry made of small wineries in almost 300 distinct wine growing areas. The vineyards of the Dilj hills in the heart of Slavonia, the region east of the capital between the Sava and Drava rivers with its continental climate, rival the burgeoning wine terroirs across the globe. In the midst of this region, in the village of Brodski Stupnik, the Hotel Stupnički Dvori (Vinarija Zdjelarevic) offers an experience of 3-star accommodation in an active winery that would compare well to any experience one might find in Sonoma, with the added benefit of local culture.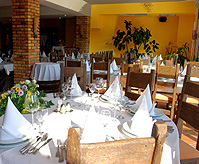 The Hotel Stupnički Dvori is a family run operation in a newer constructed building which houses the winery operations, an extensive deep cellar stacked with oak wine casks, a very popular and locally well-known restaurant serving traditional recipes of the region and a terrace which looks out on the wine vineyards spreading out on the gently sloping hills. The hotel lodging rooms are upstairs from the commercial areas with
modern comfort, casual design and free wireless. The hotel offers "allergy free" room options. Hiking and biking of the surrounding hills are popular activity. They'll pack a lunch for you to spend a day out. If staying on the grounds is more to your speed, there is table tennis, checking out the wine operations, or just exploring the cellars. One some occasions you may encounter ladies in local traditional costumes presenting souvenir wares for sale or a photo among the vines.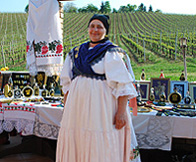 The Winery Hotel Stupnički Dvori is located in the wine growing village of Brodski Stupnik, a mile off of the A3 motorway through northern Croatia near Slovonski Brod along the Bosnia border, about an hour and half from Zagreb and an hour from Osijek (see Osijek Tvarda Fortress), a central location for exploring this unique wine region with many hidden treasures to discover. © Bargain Travel Europe
Book Hotel Stupnički Dvori Vinarija
Find best hotel and travel deals in Croatia on TripAdvisor
These articles are copyrighted and the sole property of Bargain Travel Europe and WLPV, LLC. and may not be copied or reprinted without permission.
SEE ALSO:
VARAZDIN - CROATIA'S BAROQUE CITY LITTLE VIENNA
ZRINSKI CASTLE MUSEUM - CAKOVEC
DURDEVAC CASTLE - ROOSTER LEGEND