BUNRATTY CASTLE HOTEL
Romantic Elegance Near Shannon in County Clare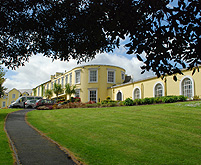 Okay, first off, the Bunratty Castle Hotel is not in a castle, it's across the street from one. But wouldn't you rather stay in a warm and cozy elegant hotel than a drafty old pile of stone? The Bunratty Castle Hotel takes a spot on a hillside overlooking the Bunratty Castle along the River Shannon. The castle is known for its folk park with a look at life in the middle ages and for its very popular medieval banquets (see Bunratty Castle and Folk Park). The hotel has an intimate and comfortable feeling with rooms decorated in traditional fabrics and warm color scheme giving the feeling of a country manor house. The Bunratty Castle Hotel is operated by the Blarney Group which has another similar property near the Blarney Castle in Cork, boasting charm and luxury.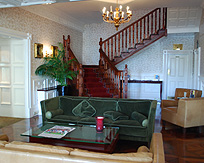 For dining in the hotel the Round Room Restaurant serves a menu of modern Irish cuisine featuring local produce in an elegant upscale atmosphere. Kathleen's Bar is an intimate space which serves food in a casual environment during the day and cocktails at night, but you needn't hang around the hotel. The concierge can make reservations for a Medieval Banquet at the castle and there's else plenty to do just steps from the front door. Next door to the hotel, the Bunratty Village Mills shopping center provides ample browsing for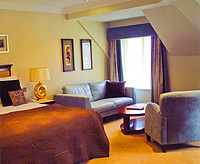 the shoppers of outlet bargains. The famous 17th Century pub, Durty Nellies has been pouring drinks for sojourners through County Clare since 1620. The Creamery Bar next door owned by American ex-pats offers a friendly roadside pub atmosphere and ice cream desserts. For a romantic relaxer after a day of hard touristing, the hotel's luxurious Angsana Spa, which takes its name from the exotic Angsana tree of the rainforests of Asia offers a wide range of Thai holistic treatments for body and soul with the pleasure of touch andaroma of exotic oils.
The Bunratty Castle Hotel is just 5 miles from the Shannon Airport in County Clare with taxi or bus service. For sight-seeing adventures with a car, the hotel is well under an hour from many of the top touring spots of the unspoiled countryside of southwest Ireland - the rugged Burren, the famed mighty Cliffs of Moher, the Ring of Kerry and Galway are to the west - Limerick with King Johns Castle and the Hunt Museum and the stunning Rock of Cashel are to the east. A little farther out, the Connemara region and Kilarney Lakes are within a longer day's reach. © Bargain Travel Europe
Book a deal at Bunratty Castle Hotel
Find best travel deals in West Ireland at TripAdvisor
Web Info
Bunratty Castle Hotel
These articles are copyrighted and the sole property of Bargain Travel Europe and WLPV, LLC. and may not be copied or reprinted without permission.
SEE ALSO:

DRIVING IRELAND'S SCENIC COUNTRYSIDE
GREGANS CASTLE HOTEL - THE BURREN
BLARNEY WOOLLEN MILLS HOTEL - CORK