KING JOHN'S CASTLE
Lackland's Fortress in Limerick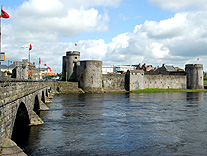 King John's Castle is in Limerick, Ireland, but King John never set foot in the medieval fortress that bears his name. The Vikings had built a fort on a flat island in a split in the Shannon River, from which they raided and dominated the region in conflict with Irish clans of Munster. The Normans from England came to Ireland in the 12th Century under Henry II, who had built an empire including of half of France, and intent on adding Ireland (see
Trim Castle Meath
). Donal Mór O'Brien, the Irish King of Thomond, controlling what is now most of County Clare and southwest Ireland, submitted to Henry at Cashel in 1172 (see
Rock of Cashel
), retaining his position and holding back Norman encroachment until his death in 1194, when Henry named his youngest son, John, as Lord of Ireland.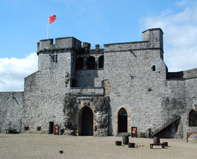 King John had such a bad reputation as a wastrel and military failure, that no other English kings were ever named John. After his brother Richard I, popularly known as "Lionheart" died, many of the lords of France who had been subdued by his father Henry and feared his brother, wouldn't swear fealty to John, losing the imperial lands in France and giving him the popular name in England of John "Lackland". King John's oppressive tax policies brought down the wrath of the English barons and he was forced to sign the Magna Carta at Runnymede in 1215. He died a year later from a fever caught with his army in East Anglia while trying to regain the power he'd signed away (see Castle Hedingham), leaving his kingdom torn by civil war.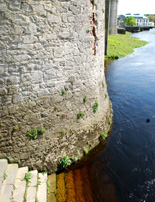 King John's Castle, a 13th Century Anglo-Norman fortress built between 1200 and 1210 located in the heart of Limerick on "King's Island" with the waters of the River Shannon lapping at its stone foundations, was a pioneer of castle construction in its day with several of its innovations seen in the great "Iron Ring" castles of Edward I in Wales (see Harlech Castle North Wales Coast). King John's Castle retains many of the features which made it unique for its day, with its impressive gate house of high narrow semi-circular stone towers protecting the approach from the river, which once housed the portcullis system. The battlements and corner towers can be climbed for panoramic views of the River Shannon flowing under the arched Thomand Bridge and surrounding countryside.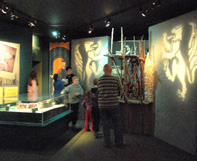 The castle has recently undergone a multi-million euro update, with a new visitor experience with interactive exhibitions, computer animations and multi-media presentations to bring the cast's history to life for a modern audience of kids and adults. A hands-on history approach offers a chance for kids to play dress-up in medieval garb and relive the past recreated in a medieval knight's campaign tent in the courtyard, including a blacksmith's forge and scenes of a 17th Century castle siege. Guides in period costume tell the tales of turbulent times.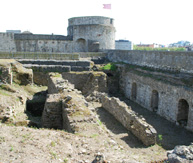 Inside the castle on several floors above the visitors center display covering the different ages of Irish and English rule and conflicts, recounting the castle's history as well as some kids only secret passages. Outside, an archeological excavation of the 13th century undercroft of the former great hall, with the officers' quarters uncovered in 1995 are open to view in the courtyard. In one complex of passages in the thick walls is a replica of what would have been the mint where the king's coins would have been made. In another chamber, a rather fanciful mannequin likeness of King John seems to fascinate kids with its image of a medieval king on his throne while a recorded presentation tells his story, but no-one really knows what King John looked like. There are a few medieval and later representations of him, but none were from life.
The effigy on his tomb in Worchester Cathedral was done 15 years after his death. What is known about his physical person is that he was 5'5" tall, the shortest of his kin, so Claude Raines in the 1940's movie version of "Robin Hood" might have been close enough. King John was a restless monarch who spent much of his reign moving from one castle to another (see Castle Knaresborough) among the royal hunting forests, which is from where some of the connection to the Robin Hood legend comes. He came to Ireland once as King in 1210, landing at Waterford, touring Dublin, Meath and the North of Ireland, but not Limerick where the castle named for him was being completed.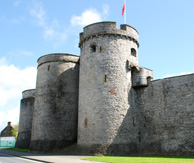 In the middle ages, the settlement on King's Island was known as "England Town" while across the river beyond the protective walls and gate house of the castle was "Irish Town". The castle was heavily damaged in the Cromwellian Siege of Limerick in 1642, the first of five sieges of the city during the Irish Rebellion in the 17th century, with only part of its full original form remaining. The current entrance to King Johns Castle is through the modern visitors center on the cobbled walk through Limerick's Medieval Heritage district which stretches between King John's castle and the Hunt Museum across the bridge from Merchant's Quay. The heritage area is still recovering from years of blight which the city suffered the late 20th Century, but you'll find the pedestrian zone with many of Limerick's busy bars and restaurants across the quay.
Visiting King John's Castle
King Johns Castle in Limerick is open daily all year, 9:30 am - 5:30 pm April to September and from 9:30-4:30 October to March and. Admission is €8, children 5-16 €4.50 with a family ticket for 2 adults and up to 4 kids for €20.60. There is a car park in the summer and street parking available nearby. © Bargain Travel Europe
Get an Irish Cultural Heritage Discount Pass. Its Free!
Find best travel deals in Western Ireland
Web Info
Shannon Heritage
These articles are copyrighted and the sole property of Bargain Travel Europe and WLPV, LLC. and may not be copied or reprinted without permission.
SEE ALSO:
HUNT MUSEUM ART & ANTIQUITY - LIMERICK
IRISH NATIONAL STUD - HORSES & GARDENS