KUNSTMUSEUM LIECHTENSTEIN – VADUZ
Contempory Art and the Princely Collection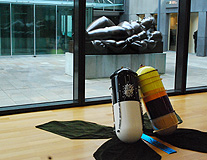 Okay, how many art museums you've visited have a Sushi Bar? The art museum in Liechtenstein does. The Kunstmuseum Liechtenstrein, housed in a very contemporary building in the center of Vaduz is the state art gallery of Liechtenstein, opened in the year 200, operating as a public foundation. The capital of Vaduz is quite compact and its hard to miss the reclining nude uber-fat chick statue which marks the entrance.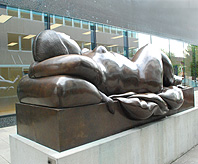 The Kunstmuseum Liechtenstein has proved itself an innovative art institute, becoming a significant player on the international exhibition and art scene, and instrumental in the establishment of Liechtenstein's identity. The collection focuses on twentieth and twenty-first century works, especially sculptures, avoiding the limitations of geography, style, epoch, to feature themes of particular significance in modern and contemporary art from abstract and minimalist to conceptual art. In 2007, the museum acquired a third of the Ricke Collection from long time Cologne art collector Rolfe Ricke, which it shares with the art musuems of St Gallen Switzerland and Frankfurt, Germany - a unique collection of works, consisting of mostly American artists since the 1960s, represented by the likes of Donald Judd, Richard Artschwager, Keith Sonnier, Barry Le Va and Richard Serra.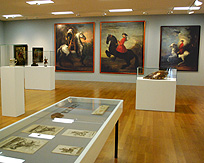 The current Prince of Liechtenstein, Hans-Adam II, one of the few remaining royal heads of state, spends most of his energies managing his vast family art collection, with large parts of it in museums in Austria. The museum draws as well from the collection of the Prince's own collection. Some of the permantant works on exhibit include masterworks of the Baroque age, including the first Princes of Liechtenstein, who liked to be depicted on their on their favorite horses. However, the main focus of the Liechtenstein Museum is the collection of international modern and contemporary art which covers the period from the nineteenth century to the present, with changing themes of exhibits from year to year.
Café at the Kunstmuseum
You can enjoy more than art at the Kunstmuseum Liectenstein. Behind the counter of the crisp modern elegance of the café. You can watch the master Sushi Chef whose knife slices with artistic precision turning fresh fish into maki sushi and sashimi.
Visiting the Kunstmuseum Liechtenstein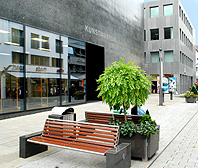 The Kunstmuseum Liechtenstein is Vaduz is open Tuesdays to Sundays 10am to 5pm. Admission is 12 CHF for adults, 8 CHF for seniors and students, children under 16 are free. A combination ticket which includes the Landesmuseum (State History Museum) which more personal history of the prince's family is available for 15 CHF. The museum is located in the pedestrian zone of Vaduz, a short walk from the new tourist office and the Postal Museum (see Postage Stamp Liechtenstein). © Bargain Travel Europe
Find best hotel and vacation deals in Vaduz on TripAdvisor
Web Info
Kunstmuseum Liechtenstein
These articles are copyrighted and the sole property of Bargain Travel Europe and WLPV, LLC. and may not be copied or reprinted without permission.
SEE ALSO:
SCHAEDLER CERAMICS FACTORY TOUR

LIECHTENSTEIN SKI AND WINTERSPORT MUSEUM
FONDATION DE L'HERMITAGE ART MUSEUM - LAUSANNE