FONDATION DE L'HERMITAGE
Hilltop Art Museum of Lausanne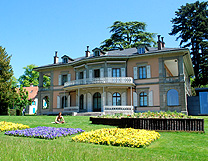 The Foundation de L'Hermitage, the hilltop art museum in Lausanne will celebrate its 30th Anniversary in 2016 and it will be 175 years in the history of its home. In 1841, Swiss banking innovator Charles-Juste Bugnion acquired The Hermitage Estate hillside with a magnificent view of Lake Geneva and the old town cathedral spire, which had been the subject of several well known paintings by impressionist artist Camille Corot. The mansion Bugnion had built, designed by architect Louis Wenger took almost seven years to complete, including the landscaping of the park surrounding the house with rare species of trees from around the world. The descendants of the original owner donated to the historic villa to the City of Lausanne in 1976 with a part of the surrounding grounds, with a private foundation to keep the mansion for housing temporary exhibitions. The Foundation L'Hermitage was inaugurated in 1984.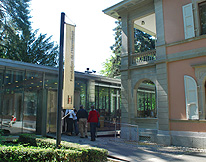 Two or three temporary exhibitions per year are presented at the L'Hermitage primarily devoted to modern, impressionist and expressionist art. The museum has collected close to 800 works made up of mostly donations and bequests of its own with a selection presented in the museum at rotating intervals. Outside museums and private collectors have entrusted the foundation with major collections. Among the donations are major examples of impressionist and post-impressionist painters – Alfred Sisly, Edgar Degas, George Braque, Eugene Boudin and Guillaumin and a selection of 20th Century Swiss artists from the Vaudois – Chavanne, Valltton, Bosshard.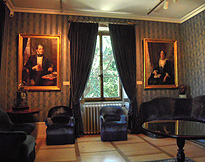 One room of the mansion remains as it was in the 19th Century when occupied by the banker Bugnion and his family, with original furnishings and family portraits for a look back to its origins as a private home. On the opposite end of the scale the entrance to the Hermitage Foundation museum is the very modern glass enclosed reception hall, connected to the mansion by an enclosed walk with the museum bookshop offering a large selection of art books, postcards and reproductions.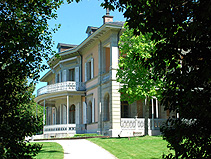 A collections of Chinese Porcelain dating from the 12th to 19th Centuries is on display in the underground gallery passage which links the museum with the Hermitage farmhouse where educational workshops, lectures, seminars and music concerts are held. The museum offers Art and Gastronomy Evenings with a meal and guided tours and Art and Brunch Sundays, though the lectures are in French.
The park surrounding the mansion is open to the general public for walks among its rich variety of shady trees, many picked out by the original owner's wife, Jeanne-Marie who took charge of the park. The broad esplanade lawn between the house and the lake view vista attracts sun loungers in pleasant weather. The former orangerie of the mansion built in 1857 in English faux Tudor revival style originally meant to shield the mansion from the farm buildings now houses the museum's Café-Restaurant with an outdoor terrace
Visiting the Foundation L'Hermitage Lausanne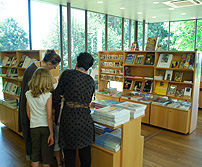 The Foundation L'Hermitage is open Tuesdays to Sundays from 10 am to 6 pm, Thursdays from 10 am to 9 pm. Admission is a bit pricy, 18 CHF for adults, 15 CHF from Seniors and 7 CHF for Students, though a bargain for young people under 18 who in free. It used to be you'd get a fake ID to seem older. To get to the L'Hermitage by public transportation, from the main station take the No. 3 Bus to the Mott Stop. From the Place Saint-François in the center of town take the No. 16 or 8. From the old town catch the Number 16 bus at the Pierre Viret bus stop below the Cathedral - one of the few bus stops named for the founder of a religion. By car follow the signs to the Bois de Sauvabelin woods, there is a car park at the Place des Fêtes across the street. © Bargain Travel Europe
Best hotel and travel deals for Lake Geneva on TripAdvisor
Web Info
Fondation de L'Hermitage
These articles are copyrighted and the sole property of Bargain Travel Europe and WLPV, LLC. and may not be copied or reprinted without permission.

SEE ALSO:
MUSEE D' L'ELYSEE - PHOTOGRAPHY MUSEUM
STEAMER CRUISING ON LAKE GENEVA