SWISS CAMERA MUSEUM – VEVEY
Photography History on Lake Geneva Riviera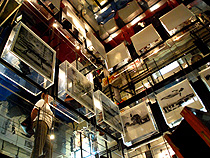 The Swiss Camera Museum collection was begun in 1971 by Claude-Henry Forney and the museum opened in 1979, first in an apartment on the Grande Place, but moved ten years later to an 18th Century building on the Ruelle des Anciens-Fossés, connected to the Grande Place by an underground passage. The permanent exhibition occupies more than 500 square meters of space on 6 floors of the historic building, telling the story of the last century and a half of the art and technology of photography. Exhibits cover the inventors, the advancement of techniques, and a vast collection of cameras and photographic equipment, from the original Camera Obscuras and Magic Lanterns and Nickelodeons to the modern digital photography age.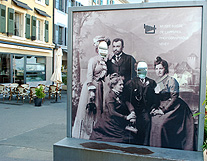 Easy to spot, the entrance on the Grande Place looking over the waters of Lake Geneva is marked by a poster of the turn of the century variety of carnival photographers set where the subjec'ts head appears in period costume. The exhibit floors wind upward on stairs from level to level around the central core of the old building with a dazzling array of photography. Play with early forms of animation of spinning mirror images and slits in wheel effects.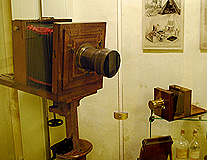 Discover the original 3D of the Stereopticon and Stereoscopic photo viewer which amazed the Victorian age, long before the blue aliens of today's movie theaters. Explore the early forms of tintypes and ferrotypes, hand-tinting for early color photographs, the developments of large format bellows cameras to the Rolleiflex and through the decades to the ccd and beyond.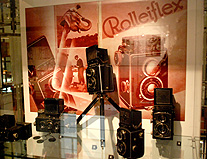 Among the exhibits are games and hands-on installations of particular interest to kids. On weekends are programs to create photogenic drawings using objects exposed against photographic paper, then into the photographic lab to hand develop the images. Other photography workshops are offered for both adults and children. The Swiss Camera Museum in Vevey is open Tuesday to Sunday from 11am to 5:30pm Admission for adults is €5.20, Seniors and Students €4, Children under 16 are free. Audio guides in German and English are available at no charge. © Bargain Travel Europe
Reviews and best travel deals for Lake Geneva on TripAdvisor
Web Info
Swiss Camera Museum
These articles are copyrighted and the sole property of Bargain Travel Europe and WLPV, LLC. and may not be copied or reprinted without permission.

SEE ALSO:
ALIMENTARIUM FOOD MUSEUM - VEVEY
MUSEE D' L'ELYSEE - PHOTOGRAPHY MUSEUM LAUSANNE
HISTORY & WINE BROTHERHOOD MUSEUM OF VEVEY