THE OLYMPIC MUSEUM – LAUSANNE
The Glory of Sport on Lake Geneva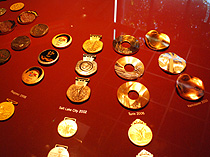 It is the most visited museum in Switzerland, after the Transport Museum in Lucerne (see Swiss Transport Museum), with almost a quarter million visitors a year and the Olympic Museum which had been closed for renovation has reopened. Founded in a modern temple of contemporary architecture in a park in Lausanne over-looking the glistening waters of Lake Geneva, the Olympic Museum is the repository of the written and visual story of the Olympic Games. In 1894, Baron Pierre de Coubertin founded the International Olympic Committee,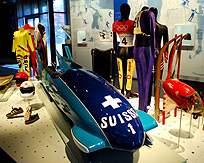 inspired by the althetic contests of the Greeks held in ancient Olympia in the 5th Century BC, and the commonality of sports to bring nations together. The first Olympic Summer Games were held in 1896 in Athens with 241 atheletes representing 14 countires. The Winter Olympics were added to the mission in 1921 with the first winter games held in 1924 in Chamonix, France, and in more recent times the Paralympic Games and the Youth Games.


The Olympic Museum was dedicated in 1993 by then Olympic President Juan Antonio Samaranch and named Europe's Museum of the Year two years later. An architectural gem clad the symbolic white marble from Thassos, with a swirling ramp from floor to floor under a translucent dome, the permanent exhibits of the museum take up three open and airy floors, providing a journey through the Olymic story from the images of the original Greek atheletes on a collection of antiquity vases, when olive oil and fine sand was used on naked bodies for sun screen to the ultra-high tech racing suits of today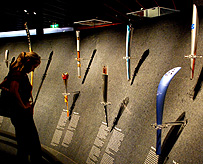 (some of them even banned, yet on display). Here you'll find the parabolic cauldron where the Olympic flame is lit in Olympia from only the sun's rays before the torch is passed across the world from runner to runner. The collection of torches over the years and complete medals from the games, along with mascots, pins, and official costumes show the continuity, development, and progress of thought behind the contests over the passing years. Over 2500 exhibits and interactive terminals allow exploring thousands of documents and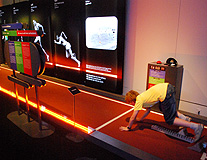 film clips tracing Olympic history from the beginning to present day. Interactive displays and activities make for an active experience, exhibits allowing an opportunity to compare your acceleration speed from the starting blocks to an Olympic Champion, or test hand and eye coordination, speed of a diver into the pool or compare your lung capacity to an Olympic athelete. An additional floor of the museum presents temporary exhibits like the science of sport, which change about every two years. A varying program of films are shown in the theater and live events, concerts and exhibitions are held within the park grounds.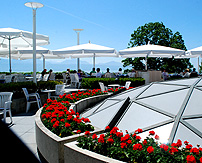 The gardens of the Olympic Museum are dotted with statuary and art in bronze, marble and steel, carrying the sporting theme outdoors, from the classical to the modern oblique, with works by Rodin, Arnoldi, Calder and Tinguely. The Restaurant on the upper terrace around the museum's dome provides a view of the lake from the Quai d'Ouchy to the Savoy Alps, surrounded by the tranquil greenery and flowers of the park.

Visiting the Olympic Museum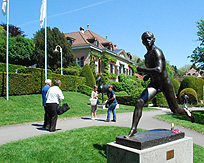 The Olympic Museum of Lausanne is open daily from 9am to 6pm, located on the lake shore, a five minute walk from the new M2 Metro tram stop at Ouchy, next to the grand hotel of the Beau Rivage Palace of Lausanne, or by city bus 8 or 25 to the Musee Olympique stop. By car, parking is at the Beau-Rivage Palace garage or Navigation garage. Admission for Adults is 15 CHF, Children and Seniors 10 CHF, kids under 6 are free. The Olympic Museum is free with a Swiss Pass). For a good view table at the restaurant, a reservation is recommended. A less formal cafe is on the lower floor of the museum, or take a sandwich to picnic in the park. The Olympic Museum can be easly combined with a visit to the Musee E'Elysee just behind and above the grounds (see Musee L'Eysee Photography Museum). © Bargain Travel Europe
Best hotel and travel deals for Lake Geneva on TripAdvisor
Web Info
Olympic Org
These articles are copyrighted and the sole property of Bargain Travel Europe and WLPV, LLC. and may not be copied or reprinted without permission.

SEE ALSO:
FONDATION DE L'HERMITAGE - ART ON THE HILLTOP
ST BERNARD DOG MUSEUM - MARTIGNY
STEAMER CRUISING ON LAKE GENEVA
TOURING THE LAVAUX TERRACE VINEYARDS