HOTEL STEIN – SALZBURG
Terrace Bar Views of Old Salzburg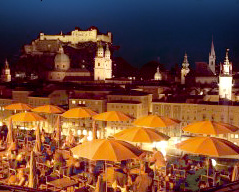 The Hotel Stein has been around since the 15th Century, set right on the Salzach River directly across the Staatsbruck bridge from old Salzburg, with one of the best views of the old town, crowned by the medieval Hohensalzburg castle. Now, a trendy 4 star completely revitalized designer boutique hotel, its roof terrace bar is one of the fun spots hangouts of Salzburg. The historic features of building have been preserved with traditional elements remaining, but recreated with an eclectic modern flair mixing a colorful 1950s retro style and a quirky contemporary edge.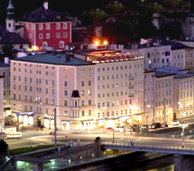 The Stein Hotel is located just a few minutes' walk to the main tourist attractions of Salzburg. Mozart's Birthhouse is only 200 yards (see Mozart Museums Salzburg), and you can actually look across into to his old bedroom window. The Tomaselli Café where Mozart hung out in the social time of his day is just beyond (see Café Tomaselli) on the market square opposite the Salzburg Cathedral. The hotel's 56 rooms are stylish updates, with flat screen TVs, marble bathrooms and air conditioning.
Stein Terrace Bar
The Stein Terrace Cafe Bar & Lounge on the 6th floor roof deck above the hotel is known as the spot to be for sunset cocktails in Salzburg. DJs spin music in the evening high above the streets, an entertaining spot to relax after a day of touring with its panoramic view, open daily from noon to midnight. The Hotel Stein is probably better for a younger traveler, with a young staff and a hip vibe rather than old world charm. The music from the bar can intrude on the upper floor rooms if you plan to turn in before midnight.
The Hotel Stein has a car park, but with limited spaces and if driving, city public parking may be necessary. If coming by rail, the hotel is a 10 minute city bus from the station. © Bargain Travel Europe
Book a deal at Hotel Stein
Find best hotel and travel deals in Salzburg on TripAdvisor
Web Info
Hotel Stein

These articles are copyrighted and the sole property of Bargain Travel Europe and WLPV, LLC. and may not be copied or reprinted without permission.
SEE ALSO:
HELLBRUNN PALACE TRICK FOUNTAINS
SALZBURG MARIONETTES THEATER

BAROQUE MUSEUM OF SALZBURG
SALZBURG ADVENT CHRISTMAS MARKETS
BEER & BREWERY TOURING SALZBURG