ST PATRICK'S DAY TOURS - PADDYWAGON
Celebrate St Paddy's Day in Ireland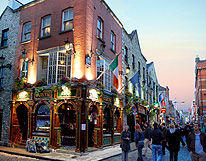 Okay, sure St Patrick's Day is an excuse to party. What an Irish religious icon has to do with swilling pints of Guinness and tossing back shots I'll leave for discussion, but if intent on celebrating the most Irish of holidays, why not do it in Ireland in a real Irish pub rather than your local sports bar. Paddywagon Tours, an Ireland based Hostel and Tour outfit best known for its youthful backpacker and "luxury budget" guided bus tours and hostels about the Emerald Isle offers special St Patrick's Day versions of its tours guided by local Irish lads and lasses.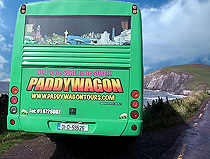 Paddywagon's St Patrick's Day Tours all include St Patrick's Day in Dublin with celebrations at Paddywagon's boisterous St Patrick's Day Party, then variations of guided motor coach tours out into the cultural famous sites of Ireland, with several versions available. Paddywagon was first known for its youth hostel and tours but also offer deluxe luxury B&B and hotel accommodation versions for the young at heart, but preferring dormitory living to be a distant memory. The tour experience can begin in Dublin with air transport your own affair. Free shuttle from Dublin Airport to the Paddywagon Palace in central Dublin is included with any booked tour. Paddywagon even offers a St Patricks Day Tour starting in London with coach and ferry included.
Here are just a couple of the available tours, though there are several variations and options choices.
The Full Monty - 8 Day Tour from London. Designed for independent travelers who prefer quality Irish Bed and Breakfast homes and luxury budget hotels rather than dormitory or Hostel accommodation. This tour meets at the London rail station at Kilborn then pretty much non-stop party bus or 8 days and 7 nights, Sunday to Sunday, including overnight stays in Belfast and Derry with stops at Giants Causeway and the Carrick-a-Rede Rope Bridge, magical Kerry, Galway with swings through Connemara and the Burren and the Cliffs of Moher, Dingle Peninsula, with 3 nights in Dublin
St Paddys Extravaganza in Dublin - 5 Day Ireland only Tour. Head from the Dublin Airport arrival direct to the Paddywagon Palace (okay, it's a hostel and hotel not actually a palace) and begin with the Paddywagon Party. Next Day is a reserved spot on the O'Connel Bridge for the St Patrick's Day Parade, the world's largest non-military parade and festival, with the day ending in the clubs and pubs of Temple Bar, where you may find yourself seeing an oversized Leprechaun before the sun rises. Then bright and bleary-eyed, see some sights, including a tour of historic Dublin, the monastic enclave of St. Kevin Glendalough in the majestic Wicklow Mountains, the location for the movie Braveheart, and the Cliffs of Moher. Spend a night in Dublin as special guests of Guinness.
You don't have to be young for one of Paddywagon's tours, but it helps to be young in mind. © Bargain Travel Europe
Review of Paddywagon Tours
Find best hotel and travel deals in Dublin on TripAdvisor
Web Info
Paddywagon Tours
These articles are copyrighted and the sole property of Bargain Travel Europe and WLPV, LLC. and may not be copied or reprinted without permission.
SEE ALSO:
KERRY COAST WALKING TOURS DEAL

FOLLOW US PRESIDENTS IRISH HERITAGE