SCHWEINE MUSEUM – STUTTGART
Restaurant and Collection of Pig Art, Culture and Kitsch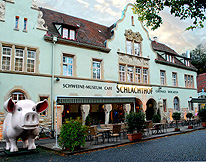 Why is calling someone a pig, or a swine an epithet of the highest order? Are pigs deserving of such derision? Some people certainly like to eat pork. Some folks think pigs are cute, especially when small. Winnie the Pooh's best friend was a piglet, and Bugs Bunny's best friend was a stuttering Porky. Well, in Germany, where the barnyard variety of swine makes up a substantial portion, pun not unnoticed, of the natural diet, especially to anyone who has attended a beer fest with the ubiquitous Schweine Haxe doled on a plate - located in a suburb of Stuttgart, near the Canstatter Fair Grounds where the Fruhlings and Oktober Beer Festivals (see Stuttgart Festivals), are held and just across the river from the Mercedes Benz factory (see Mercedes Benz Museum) and football arena, the pudgy animal in all imaginable shapes and forms is on display at the remarkable and kitschy Schweine Museum.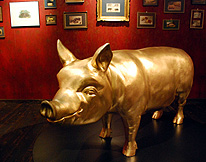 A long traditional tourist stop in Stuttgart, the Schweine Museum is essentially a restaurant on the ground floor, with the "museum" on the floors above. The restaurant, the Stuttgarter Schlachthof, is a traditional style gasthaus with beer garden, serving a variety of pork, grilled sucking pig or crisp pork knuckle, as well as other Swabian influenced delicacies. The building itself is the former administration building of a slaughterhouse in Jugendstil architecture, set in the now gentrified former industrial zone. The cozy confine of the restaurant seats 195, while the terrace of vine arbors and view of a sculpture garden can accommodate 600 when the sun shines.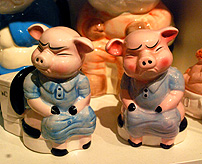 You know you have arrived at the right place by the giant pink pig standing guard over the front porch. The Schweine Museum, billed as the largest museum of its particular subject in the world, is upstairs, on two floors and twenty-eight different theme rooms of the swinish animal, in a collection rivaling any on one subject. Lucky pigs to piggy banks, cartoon characters, stuffed animals, antique porcelain to crystal bejeweled collectibles, advertising signs, pig characters as firemen and police, nurses and exotic dancers. Pigs in gold and pigs in velvet, pigs in a vault and surely some in a blanket. There are two thousand piggy banks alone! There is even a red lit room of pig erotica, with colorful creatures in all manner of gymnastics you might conceive to satiate any porcine fantasy, though slightly above the eye level of younger visitors. Shelves and shelves of well, pigs. And after seeing the little darlings, head downstairs and dig in, with a beer.
Visiting the Schweine Museum and Stuttgarter Schlachthof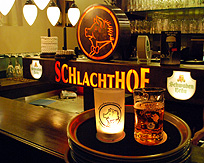 The museum is open daily from 11am to 7:30pm, with last admission at 6:45. Admission is 4.90€ for adults, 4€ for seniors and students, 2.50€ children 6-14 and children under 6 free. There are group tickets and guided tours available. The Schlachthof Restaurant is open until 11 pm. The Schweine Museum can be reached by the U9 subway line from the main train station in the direction of Hedelfingen at the Schlachthof stop. By car off the B10 at Tal Strasse, follow signs toward the Mercedes Benz museum. It is possible to walk from Mercedes, about 10 minutes. © Bargain Travel Europe

Compare best hotel deals in Stuttgart on TripAdvisor
German High Speed Train ICE Booking Center
Web Info
Schlacthof Schweine Museum
These articles are copyrighted and the sole property of Bargain Travel Europe and WLPV, LLC. and may not be copied or reprinted without permission.
See Also:
UNITED NON-STOP NEW YORK TO STUTTGART
BLACK FOREST CARNIVAL FOOLS MUSEUM