HAMBURG'S LANDMARK CHURCH ST. MICHAELIS
If it's Baroque it must be "Michel"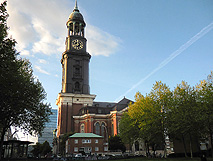 St. Michaelis, Michelskirche or just "Michel", St. Michael's Church is northern Germany's largest city's most famous church and the symbol of the city, a must-see tour stop for the sights of Hamburg. Its high clock tower is one of the few that can be climbed in the Hanseatic free city of Hamburg, offering one of the best panoramic city views in Europe. Dedicated to the Archangel Michael's defeat of the devil at the end of times and illustrated with a beautiful and haunting bronze sculpture over its main entrance portal, the church was built in the mid 1700's in the Baroque style at the height of this northern port city's economic power as a shipping and trading center. It survived two major fires, one of which destroyed much of Hamburg, and the massive bombings of WWII, which Hamburg's gothic cathedral did not, except for a remaining ruin of one bell tower.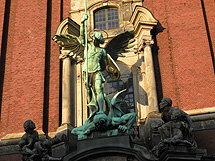 The interior of the St. Michealis was designed to hold 3000 of the city's protestant Lutherans, in white with gold leaf decoration in theater like seating for the performances of its massive organ. The altar is almost 50 feet high and the pulpit rises up over the pews with almost the feeling of today's revival mega churches. Musical performances are still a regular attraction at St. Michael's, especially Handel and Hamburg hometown boys Mendelssohn and Brahms. The church's viewing platform in the bell tower can be reached by elevator or stairs, with seperate admission, with the interior of its wood over brick construction visible.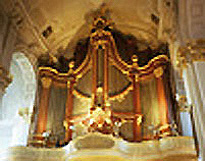 Michaelskirche is located in the Neustadt area of the city near the port over which it's clock tower provides breathtaking views (See
Tour Hamburg Harbor
). This was the area of the city which grew in the 1600's with the trade growth outside the original medieval section almost no longer to be recognized. Admission fees to the tower and music performance information at Saint Michealis can be found on the web at
www.hauptkirchen.de
(unfortunately in German) which also has information about the city's other four main churches. The church can be visited as part of the Hamburg City Walk "Port Promenade" and many city bus tours make it one of their main stops for the church and the medieval shopping street nearby. ©
Bargain Travel Europe
Compare best hotel and vacation deals in Hamburg
These articles are copyrighted and the sole property of Bargain Travel Europe and WLPV, LLC. and may not be copied or reprinted without permission.
SEE ALSO:
SUPERMODEL SECRETARIES - HAMBURG

BERLIN-HAMBURG AT 240 KPH

GERMAN FAIRY TALE MUSEUM

FERRY THE ELBE TO LUCKY CITY - GLUCKSTADT

A TOUR WALK AROUND MUNICH
HAMBURG BALLINSTADT EMIGRATION MUSEUM