SUPERMODEL SECRETARIES
The Working Girls of Hamburg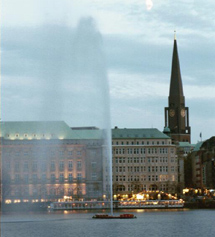 No, I don't mean the "working girls" you're thinking of. Okay, sure there are beautiful girls in Rome, London, Hollywood, Milan. But often they've come there from elsewhere to be famous, or meet the rich and famous. Accents and attitudes. But strolling back to my hotel from the Hanse-Viertel, Hamburg's multifloor upscale indoor shopping mall near the city's landmark Innen Alster (lake), I notice a truly gorgeous girl walk past me. Then another and another. I'm probably about to break my neck, my eyes magnetized by the golden shimmering hair, the Nordic blue crystal eyes, the languid long legged cross-step walk. I wonder what the heck is going on! Is somebody holding auditions for a new realty show - Supermodel Hamburg? Then it comes to me. It's 5:30 pm (17:30). Offices are letting out as the secretaries and clerks get off work and head home to the train or the car park. Among the workaday womanhood of Germany's port city, the free Hansa state of Hamburg (See Hamburg's Harbor), Heidi Klum would just be another face in the crowd.
Brunettes and those who love them, don't write me letters. And for the other "working girls" of Hamburg see St. Pauli - Reeperbahn - An All Night Party.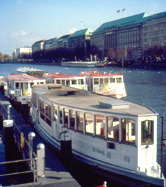 What to do with your own supermodel girlfriend or wife (you know who you are, lucky dog) along the Alster? When the weather's nice in spring or summer take a boat cruise on the lake and through the canal locks of Hamburg. Go to an art museum (see Bucerius Art Forum at the Rathausmarkt). Toss a few spare morsels to the elegant Swans that gather along the steps. Go shopping. And more shopping. And keep you're wandering eyes in your head. © Bargain Travel Europe
Compare best hotel and vacation deals in Hamburg
Web Info
Hamburg Tourism
These articles are copyrighted and the sole property of Bargain Travel Europe and WLPV, LLC. and may not be copied or reprinted without permission.

SEE ALSO:
HAMBURG'S LANDMARK ST. MICHAELIS CHURCH

FERRY THE ELBE TO LUCKY CITY

FOOTSTEPS OF THE BROTHERS GRIMM
HAMBURG BALLINSTADT EMIGRATION MUSEUM
MARITIME MUSEUM HAMBURG HARBOR
WHAT TO DO IN SUMMER IN BERLIN & HAMBURG