WARM NIGHTS ON THE BAY OF THE SUN
Laigueglia - Romantic Hideway on the Italian Riviera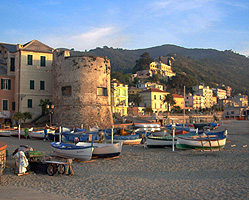 The road which follows the edge of the Ligurian Sea, halfway between Savona and San Remo, the Via Aurelia (named for Emperor Marcus Aurelia) passes through the ancient fishing village of Laigueglia (easier to find than it is to spell). The small town consists of narrow old roads and small elegant village squares where daily markets used to be held in times past. The old part of the village pinched between the coast road, and the sandy beach of the "Baia del Sol" the bay of the sun, maintains the old world charm painted in typical rich Ligurian colors, espcially when the Mediterranian sun sets (see also Bay of Silence Villa Balbi Hotel).
Hotel Splendid Del Mare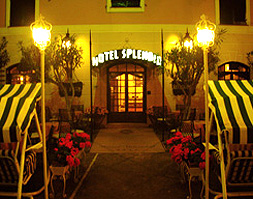 Set in the center of this old seaside town where spice traders once plied their sea trade in the middle ages, the Hotel Splendid del Mare inhabits the old walls of an original 14th Century structure converted into a convent in the 1500's, perfect for an out of the way romantic hideaway vacation or honeymoon on the Italian Riviera. The 4 star Charme & Relax property still maintains the early architectural details of the past in it's quiet and elegant modern form. With a history dating to the English wars of the 1700's, apparently the skeletons of two missing British officers who had been missing for 150 years were discovered in the walls during the last renovation. The sword of one of the officers is on display in the hall.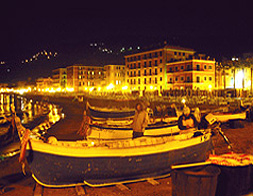 The sea and renowned sandy beaches are steps away for sailing, wind-surfing, or just soaking up the sun for which the bay is named. A stroll through the calm warm night along the pedestrian street of the old village past some intimate restaurants and small and the local jazz club takes you to the main pier, where toward midnight, the weathered fishermen who still ply their trade in traditional wooden boats prepare their nets to lay out in the bay under the moonlight.
The hotel has it's own private beach area, a pool and a restaurant serving fresh seafood and traditional Ligurian dishes around an original stone well from the monastery days known as "the nun's well". By road, Laigueglia is about an hour to the west from Genoa or the Italy-France border, 20 minutes by cab from San Remo or Savona rail stations. © Bargain Travel Europe
Book a Deal at Hotel Splendid Del Mare
Compare best hotel deals in Laigueglia on TripAdvisor
Web Info
Hotel Splendid Del Mare
These articles are copyrighted and the sole property of Bargain Travel Europe and WLPV, LLC. and may not be copied or reprinted without permission.
Other ITALY destination articles

SEE ALSO:
VENTIMIGLIA - ITALY MEETS FRENCH RIVIERA

LEARN ITALIAN IN ITALY'S PUGLIA REGION

FORTIFIED PORTO ERCOLE - TUSCANY COAST

ROME IN RUINS - A WALKING TOUR