GRAND HOTEL VILLA BALBI
Seaside Silencia on Italy's Liguria Coast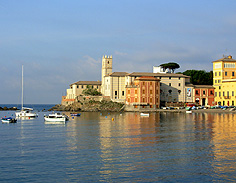 On Italy's Portofino Coast in Liguria to the east of Genoa, along the shore of the Gulf of Tigullio which forms the curve tucked into the top of Italy's boot in the Liguria region, called the Riviera Levante, the peninsula seaside village harbor of Sestri Levante has been a holiday getaway for the Genovese wealthy for hundreds of years. Looking for a quiet respite from the bustle of business they built their exclusive villas around the sandy hidden cove of Sestri's "Bay of Silence", where still today you can hear the lap of the fisherman's row boat oars across the calm waters of the bay in the morning mist.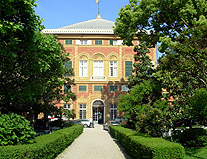 One of the first glorious villas of the 17th Century was built by the Balbi family for their vacation home away from home. In 1947 the Villa Balbi was converted into a hotel and is the centerpiece of the Sestri beachfront seaside resort. The Balbi Palace which forms the reception and common rooms of the hotel keeps it's old world charm, with it's magnificent lobby fireplace and antique elegant furnishings. Romantic and cozy. The enclosed ground of the mansion form a park where the Il Parco restaurant serves Ligurian cuisine of fish from the local markets. The Grand Hotel Villa Balbi also has it's own beach area and is steps from the many beachfront restaurants.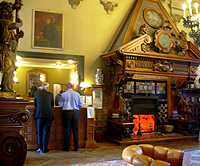 The architectural style of this area of Italy along the Liguria Riviera is quite fascinating. The old buildings have been constructed with the flat stucco gray plaster common in old Italy, but here the flat walls have been painted with a colorful faux architectural detail, making for a 3D painting-like experience as you stroll the narrow streets and alleys. As the sun sets late the central walking zones fill with locals hanging out at the many popular bars, restaurants and gelato shops in this old section of town separated from the main modern city. (See Also: Laigueglia Romantic Hideaway on the Italian Riviera)
The prices at the Villa Balbi are a reasonable bargain for a four star seaside hotel - around 155 Euros for a double (100 for a single) in the off-peak season before mid-June and after August - going up to about 190 Euros in the high summer season. Perfect for a romantic getaway or honeymoon on the Italian Riveria. Perhaps because crossing the Ligurian hills to get here (about 2 hours drive from Milan, 40 minutes from Genoa) makes it off the beaten path, and so all the more a discovery. © Bargain Travel Europe
Book a Deal at Grand Hotel Villa Balbi<

Find the best travel and hotel deals on the Italian Riviera
Web Info
Hotel Villa Balbi
These articles are copyrighted and the sole property of Bargain Travel Europe and WLPV, LLC. and may not be copied or reprinted without permission.

SEE ALSO:
VENTIMIGLIA - ITALY MEETS FRENCH RIVIERA

SUN, SEA AND ANCIENT CULTURE

FORTIFIED PORTO ERCOLE

ROME IN RUINS - A SELF WALKING TOUR
CASALMAGGIORE - GARIBALDI TO JEWELRY