BEST WESTERN PHOENIX
Bargain London Hotel By Hyde Park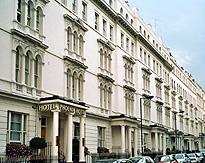 Out of hundreds of hotels in London, where to stay for a reasonble price and pleasant neighborhood for a holiday of a few business meetings on a budget? You can try the Best Western Phoenix Hotel in Bayswater. Convenient to Paddington Station and the Heathrow Express by a short cab ride or a block from the tube station. The rooms are a bit smallish, quite typical for a London converted 19th Century Victorian Town House, but the atmosphere is comforatbel and congeniel, with a little bit of period flavor. The address is on Kensington Garden Square, which is not the more famous Kensinton Park (a few blocks away), but one of those little squares of green in London's older neighboods for the lesser professional class of the 1800s.
You walk out the door on the edge of the Kensington Garden Park and expect to hear the clop-clop of a a Hansom Cab with Sherlock Holmes (see Sherlock Holmes Pub) passing in pursuit of Dr Jekyll's Mr. Hyde. The street facing rooms have a f tree-lined view of the small park (not to be confused with Kensington Park a few blocks away), a cheerful staff, and very convenient to the tube, a stroll through Hyde Park and a visit to the Princess Diana fountain at Kensington Palace. And nearly across the street from Whitley's Shopping Complex a modern London indoor shopping mall.
The area of Bayswater is rather touristy, with many budget friendly hotels in the area, gift card shops and Internet cafes, and certainly a Starbucks. The Bayswater tube stop is a block away, or the Queensway stop another block. There are some reasonably good restaurants and bars nearby. The little hotel bar and lounge at the Best Western Phoenix makes for a pleasant and intimate spot to relax.
And when I stupidly left my home house key ring in the hotel safe lock and went on to Milan. A call from another Best Western property tucked away along Italy's Lake Garda (see Big Lake Playland) easily got my keys sent back home. © Bargain Travel Europe
Book a deal at Best Western Phoenix
Compare the best deals on hotels in London on TripAdvisor
Web Info
Best Western Phoenix Hotel
These articles are copyrighted and the sole property of Bargain Travel Europe and WLPV, LLC. and may not be copied or reprinted without permission.
See Also:
SHERLOCK HOLMES HOTEL - BAKER STREET

VISITING THE TOWER OF LONDON

MARITIME MUSEUM AND ROYAL OBSERVATORY
BIG BEN'S BIRTHDAY - VISITING PARLIAMENT
EUROSTAR CHANNEL TRAIN LONDON TO BRUSSELS