LUMLEY CASTLE HOTEL
Romantic Castle Stay in Durham County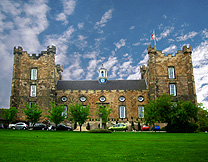 A restored late 14th Century grand manor house style castle, Lumley Castle Hotel in County Durham lies about 15 minutes north of the city of Durham, surrounded by green parklands standing watch over the River Wear. An easy drive to the coast of Northumberland, the fascinating living museum of Beamish Village and hiking along Hadrian's Wall. The original castle was begun under Sir Ralph Lumley in 1388 and completed in 1398. Sir Ralph was a key military figure in the scottish border wars, playing a role in the defense of Berwick-on-Tweed,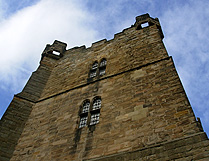 but found himself on the wrong side of royal succession intrigues during the reign of Henry IV after 50 years of stability under Edward III (see Ripley Castle). He was executed in 1400 along with his son Thomas for backing a coup attempt in support of the last Plantagent Richard II. The heydey of Lumley Castle came in the Elizabethan era when the lands and wealth were returned to Lumley descendants and is still among the properties of the Earl of Scarborough. In 1976 the castle became a deluxe hotel with the defensive walls a long past memory. The castle is haunted by only one known ghost roaming its hallways, Lady Lily Lumley, the wife of the headless Sir Ralph, often called the Lady in White.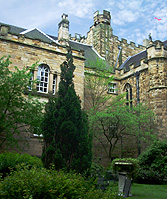 Lumley Castle Hotel has 73 available bedchamber rooms. The Castle Rooms in the main medieval structure offer a unique experience of climbing the spiral staircase to tower rooms overlooking the grounds and countryside. A few select rooms are located in the castle turrets. Courtyard Bedchambers are located in the surrounding former stable of the Castle, the Courtyard has been stylishly converted into bedchambers, each furnished with full en-suite facilities, satellite TV and radio, direct-dial telephone, internet access, trouser press, tea and coffee making facilities, hospitality tray and hairdryer. 14 new courtyard rooms include plasma televisions. The King James Suite is an exclusive bedroom suite which includes a magnificent high four-poster Queen Anne Bed, and includes its own private lounge, bathroom and in suite Jacuzzi.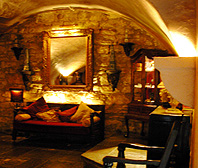 The castle's Black Knight Restaurant is an elegant setting in grand style with lavish furnishings, a seasonal menu, with a fine selection of wines from our the castle cellars. The Library Bar is a cozy and private setting to enjoy a pre-dinner drink, an after dinner coffee or liquer, or an afternoon tea. With a log fire in the hearth in winter for a bit of atmosphere. A popular spot for a castle wedding in grand style in northeast England, the Lumley Castle Hotel has it's own civil license and can arrange the entire process from cermony to reception, even with a magnificent Elizabethan style wedding reception banquet possible. The hotel offers a number of special packages from romantic couples getaway weekends to medieval experiences and murder mystery parties. © Bargain Travel Europe
Book a Deal at Lumley Castle
Find the best travel deals in Durham at TripAdvisor
Web Info
Lumley Castle
These articles are copyrighted and the sole property of Bargain Travel Europe and WLPV, LLC. and may not be copied or reprinted without permission.
Other North England Castle Hotels

LANGLEY CASTLE - Northumberland
MUNCASTER CASTLE - West Lake District
REDWORTH HALL - Durham County
ETTINGTON PARK HOTEL - Warwickshire
See Also:

FAMILY ANCESTER TRAVEL IN BRITAIN

BLENHEIM PALACE