BERLIN NIGHTLIFE ALL NIGHT PUB CRAWLING
Bars, Restaurants and Sex of Oranienburger
On a first visit to Berlin ten years ago, only nine years after the fall of the wall, a local friend took me down a street distinctively Berlin. Underground 24-hour all night clubs of graffiti anarchist art, local bands and a street filled with dolled-up hookers surrounding passing cars on the dark street baldly displaying their wares for a quickie under the S-Bahn rail tracks. Well, in the passage of time, the anarchy of the east's melding into the ways of capitalism, that street is still the undisputed center of Berlin's round the clock nightlife, but the good and bad side of capitalism has taken its toll. The quaint hidden anarchist clubs have bloomed like sunlit algae into a mile long street of wall-to-wall bars, dance clubs and restaurants, packed with dining tourists in the early hours and dance till you drop nightclub bars after dark. And the hookers are still there on Oranienburger Strasse.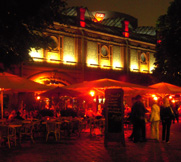 Starting from just outside the Hackescher Markt S-Bahn station between Alexanderplatz and Friedrichstrasse the clubs and bars begin, starting with the 24 hour Am-Pm Bar. It is along Oranienburger Strasse past Rosenthaler Str. with its mile of night clubs that the popular guided Pub Crawls of Berlin take gangs of thirsty tourists from bar to bar with the aroma of vodka, cigarette smoke and random acquaintance sex wafting heady in the night air. The bars and restaurants follow one after another, some dark and cavern-like, some gaudy emporiums of mirrors and golden idol elephants at the Indochina. The music is loud, the drinks expensive and remarkably, almost evenly spaced between each, a prostitute stands on the street, in almost identical outfit of boots, and thin waist bustier under down jacket covering nearly identical sized Double-D bosoms like living blow-up dolls. It's as if Walt Disney had decided from his cryonic chamber to re-invent raucous underground Berlin into an adult night-time entertainment theme park, about which a local Berliner has said, "This is not Berlin, this is Ibiza."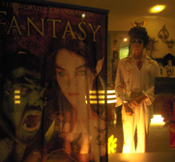 One can lament the loss of the underground Berlin to the raw lust of capitalist success, but that is perhaps part of the new Berlin. There are still a few less crawled spots locals prefer, usually in the small streets off Oranienburger, look for Keyser Soze (yes, named after the movie character) and Zosch on Tucholsky Strasse and Veb OZ on August Straße.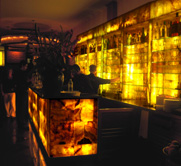 Getting to Oranienburger Straße is quite easy, just take any S-Bahn to Hackescher Markt station in Berlin Mitte and walk outside, heading north, or the U6 to Oranienburger Tor station and head toward the TV Tower easily visible. If traveling in a wandering gang of like minded outsiders, sharing a same language and like curiosity sounds like a good idea, there are number of guided Pub Crawls available. Nearly every hotel or tourist stop will have a flyer or brochure. The Fat Tire Bike Tours to be found underneath the TV tower at Alexanderplatz offers a pub crawl, not on bicycle fortunately. Stop by during the day to get the details. Another meets every night at 8:15 pm at the Erdbeer Bar just outside the Rosa-Luxemburg-Platz U-Bahn subway station, with a little more of that old Berlin underground feeling and a chance to sample one of their signature giant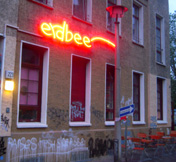 Strawberry Daiquiris (Erdbeer is German for strawberry) in a glass meant for a root-beer float, rather than alcoholic beverage, before heading off to Oranienburger. Pub Crawls usually cost somewhere around 10 Euros and some include a group alcohol shots at select stops, before having to buy your own drinks. Consider that your bar bill will significantly add to your tour tab. In busy summer months, pub crawl groups can sometimes bloom to as many as two hundred club crushing seekers of nighttime drunken pleasures. Sounds like madness, but can introduce you to like minded souls lost in a big city of foreign language. If the camaraderie wears off, or if you perhaps just get lucky, you can wander off on your own at any time, as long as you've brought your subway and S-Bahn map to find your bleary-eyed way home. And if you don't get lucky, there will always be a double-d sized pay-for-play girlfriend eagerly waiting at every corner. © Bargain Travel Europe
Find best hotel and vacation deals in Berlin on TripAdvisor
These articles are copyrighted and the sole property of Bargain Travel Europe and WLPV, LLC. and may not be copied or reprinted without permission.
See Also:
TIPI AM KANZLERAMT - CABARET TENT THEATER
OSTEL - BERLIN'S DDR DESIGN HOSTEL
SOPHIENKELLER VAULT RESTAURANT - DRESDEN
BERLIN ACTIVE TOURING - SIGHTJOGGING
SEX IN FRANKFURT - BAHNHOFS VIERTEL