DONINGTON PARK RACING CAR MUSEUM
Grand Prix Exhibition - F1 Car Collection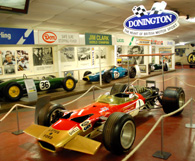 The Donington Park racing circuit outside the village of Donington Castle, between Derby and Nottingham in Leicestershire was the first permanent race track in England hosting its first race in 1931. The early Grand Prix of the 1930's raced at Donington Park before WWII brought an end in 1939. In 2010, Donington Park was to be the new home of the British Grand Prix, but with complex politics in the F1 world and dicey economics, that didn't happen. The British GP remains at Silverstone for the foreseeable future, but until full bore F1 returns to Donington Park, it is still the best place to experience Formula One racing car history on static display in all its glory.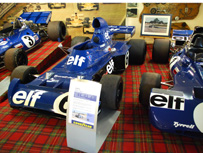 Donington Park's current owner and racing enthusiast extraordinaire Tom Wheatcroft, as a young boy watched in 1938 when Tazio Nuvolari won the Grand Prix at Donington in his Silver Arrow factory works Auto Union. After making a fortune in construction after the war, Wheatcroft bought his hometown race track to bring racing back to Leicestershire, went on to sponsor his own racing team and began collecting racing cars. In 1973 he opened the Donington Grand Prix Exhibition museum of racing at the track.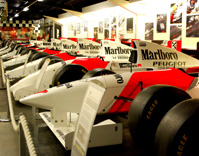 The Formula One Racing car exhibit at Donington Park claims to be the world's largest collection of F1 cars. It is certainly one of the best and most impressive displays of championship cars, a must see for any Grand Prix racing fan. The exhibit is spread through five themed halls, with over 130 exhibits, illustrating the history of motor sport from its first days to the present.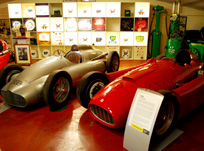 Highlights among the many, Jim Clark's World Championship Lotus 25 and the 1961 Monaco Grand Prix winning Lotus Climax of Sterling Moss. Cars driven by World Champions Jackie Stewart, Juan Manuel Fangio, Ayrton Senna, Alain Prost, Graham Hill and Nigel Mansell. You'll find here the rare silver Auto Union, Alberto Ascari's 1955 Lancia, famous race cars of Ferrari, Tyrrell, Renault and Brabham, along with the only complete collection of Vanwalls, and the world's largest collection of McLaren racing cars, lined in a row like a funhouse mirror of air intakes and aerodynamic wings to infinity. The Donington Exhibition also has the largest collection of driver's helmets from Fangio to Schumacher.
Visiting Donington Park Grand Prix Museum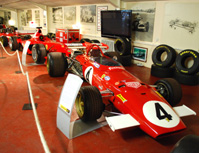 The Donington Grand Prix Exhibition is open every day from 10am to 5pm with the last admission at 4pm. There is free parking and the Donington track can be reached by public transportation from the East Midlands Parkway Station on the Midland Main Rail Line. The East Midland's Airport is so close the track parking field is used for overflow long term airport parking. Admission for adults is £7, students £5, and a family ticket is available for Adults £14. Guided tours are available by arrangement.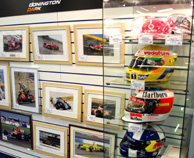 After seeing the incredible car collection, you can take your own virtual drive around the track in a F1 Racing Simulator with force-feedback steering to register every bump and shunt while surround-sound speakers recreate the adrenalin roar of a 2.4 litre V8 F1 engine at 18,000 rpm. If timed right, you can watch a race somewhere in the world in the Grand Prix Café Bar. The souvenir gifts shop has an extensive offering of model cars, books, signed photographs, DVD's, team jackets, helmets and other memorabilia. So even if Donington Park does have to wait for F1 to return to the Midlands, you don't. © Bargain Travel Europe

Find best hotel and vacation deals in Leicestershire
Nearest Hotel Express By Holiday Inn East Midlands Airport
Web Info
Donington Park
These articles are copyrighted and the sole property of Bargain Travel Europe and WLPV, LLC. and may not be copied or reprinted without permission.
See Also:
BEAULIEU NATIONAL MOTOR MUSEUM
WILLIAMS FORMULA 1 COLLECTION - OXFORDSHIRE
SINSHEIM TECHNIK MUSEUM RACE CARS
HI EXPRESS AIRPORT PARK STAY & GO