MATTERHORN MUSEUM - ZERMATTLANTIS
Zermatt and Matterhorn Climbing History Underworld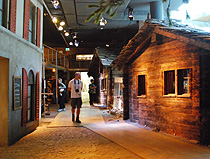 Zermatt Switzerland is defined by the Matterhorn. The town in the Matter Valley of the southern Swiss Alps, one of the world's premiere destinations would have been a sleepy little mountain farm village of cows if it were not for the famous mountain which stands over it, attracting climbers to its sharp silhouette, and tourists to its all year round snows, spa and mountain meadows. The first successful attempt to climb the peak in 1865 ended in a tragedy which brought the mountain to worldwide notoriety, attracting even more climbers and tourists. There had been 18 unsuccessful attempts to climb the mountain beginning in 1857, fifteen from the Italian side and three from Switzerland, until Englishmen Edward Wymper and Lord Francis Douglas met up with Reverend Charles Hudson and Douglas Robert Hadow for a joint climb, with father and son guides, Peter Taugwalder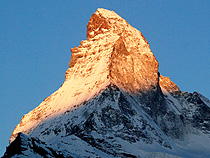 junior and senior. At 1:40 pm on July 14, the group reached the peak, beating out an Italian team that had set out before. On the descent, as the seven climbers were roped together, the inexperienced Robert Hadow slipped and four of the group fell to their deaths on the glacier below. Later accusations of the survivors that either Whymper or the elder guide Taugwalder had cut the rope to save themselves brought worldwide attention to the controversy and the mountain. Zermatt's first hotel, the Monte Rosa began to regularly fill with tourists eager to see or climb Europe most famous mountain.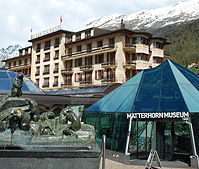 The Matterhorn Museum Zermattlantis is located underground below a glass dome at the Church Plaza in the center of the village, surrounded by the 5 classic resort hotels of the Zermatterhof, Mont Cervin and the recently renovated Monte Rosa Hotel, where climbers first gathered to talk of exploits and adventure. The museum now occupies the space of the former Zermatt Casino, seen only as a glass dome from above, the museum is a subterranean re-creation of Zermatt as it was in the 1800's. Zermatt is unique in that much of its 500 year history remains in the village of ancient wooden barns and houses surrounded by the family owned resort hotels and bars, but below ground the town is displayed almost as an archaeological dig.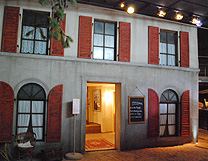 Perhaps the centerpiece is the recreated Monte Rosa Hotel as it was first opened by hotel and tourism pioneer Alexander Sieler, when mostly British wealthy class visitors began to come to Zermatt for the mountain made famous by tragedy and later attracted to the spa waters and grand hotels built for them, the beginning modern tourism. Walt Disney came to Zermatt, and so impressed with the Matterhorn and Swiss Alpine culture he made the mountain the centerpiece of his Disneyland amusement Park with a bobsled inspired roller coaster.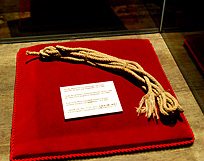 The museum is a bit reminiscent of a Disney style Zermatt underworld, with houses, barns and trees, even a 19th Century church chapel as they were before the Gotthard Railway and the Glacier Express brought the modern age to ageless Zermatt. Aside from photographs, documents, a multimedia presentation of the mountain and the village, and antique mountaineering equipment, perhaps the premiere artifact at the museum is a section of the original rope of the first successful Matterhorn climb and the tragic origin of Zermatt's place as one of the world's most unique tourism destinations.
Visiting the Matterhorn Museum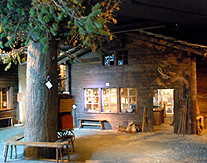 The museum is easy to find, right in the center of the village, open from 11am to 6pm in the summer months June thru September, 2pm to 6pm March-May and October, 3pm to 7pm from mid-December to Easter, closed in November to mid-December. Admission is 12 CHF for adults 10 CHF for students, 6 CHF for children 10 to 16. The museum is free with a Swiss Pass or Museum Pass (see Swiss Pass -Rail, Bus or Boat).
You can easily view the Matterhorn without climbing, by cable (see Klein Matterhorn Glacier Paradise) or cogwheel train rail (Gornergrat Matterhorn Rail), but if you want to climb the Matterhorn yourself, or Zermatt's other craggy peaks, check out the Zermatt Alpine Center down the street. © Bargain Travel Europe
Search best travel deals in Swiss Alps on TripAdvisor
Take the Glacier Express
Zermatt to St. Moritz
Web Info
Matterhorn Museum
These articles are copyrighted and the sole property of Bargain Travel Europe and WLPV, LLC. and may not be copied or reprinted without permission.

SEE ALSO:

GLACIER EXPRESS SCENIC RAIL
HOTEL ALEX -ZERMATT

WALLISERHOF CHALET HOTEL - ZERMATT