MARTIN BODMER FOUNDATION LIBRARY - GENEVA
Great Collection of World Literature in Switzerland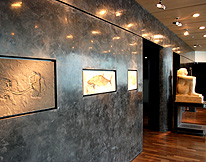 Lovers of literature and early writings should not miss the Bodmer Foundation while in Geneva. Martin Bodmer was the son of wealthy parents from Zurich, born in 1899 who inherited a large fortune from his father. He began utilizing his inheritacnce to begin collecting books at the early age of 16, devoted to the idea of gathering the world's great books and early writing into an library to illustrate what he saw as the five pillars of world literature and knowledge and what he called "the entire span of human reflection and feeling". He collected works of religion, science, drama, music and literature. After the first world war he traveled to the United States and Paris. In 1921, he established the Gottfired Keller Prize, Swiss award for literatary achievement.
Martin Bodmer's ever growing collection of works soon filled his neo-Baroque villa on the shored of Lake Geneva in the upper crust neighborhood of Cologny, not far from where Lord Bryon and the Shelleys spent the famous literary "Gothic Summer" (see
Bryon's Villa Geneva
) and in 1928 bought a former school building next door to house his books. Martin Bodmer died in 1971, turning down an offer to sell his collection, but rather establishing a family foundation to carry on his life's work. In 2003, a new library was built below ground next to the original Bodmer Villa. The building was designed by Mario Botta as a contemperay subterranian temple to literaure and knowledge, and is a journey through the past of great and very rare works to be found nowhere else on view in one location.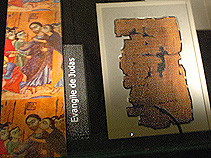 The Bodmer Foundation Libray holds the collection of almost 160,000 items, with portions on display in rotating exhibitions. Major religious works to be found include a Guttenberg Bible (see
Gutenberg Museum Mainz
), dating from 1492, the only one in Switzerland, a first printing edition of Martin Luther's
95 Thesis
(see
Church Doors Wittenberg
), most famously the Papyrus', segments of scrolls in Greek and Coptic, including the oldest surviving copy of the
Gospel of James
, as well as other texts of the Gospels from both New and Old Testament, with segments of the controversial Gnostic Gospels, like the
Gospel of Judas
. Works of literarture and science include a copy of Sir Isaac Newton's
Philosophae Principia Mathematica
, an original manuscript of a Mozart string quintet, original editions of
Don Quixote
,
Faust
, Shakespeare folios, illustrated Edger Allen Poe, the original manuscript of a printers edition of
Grimm's Fairy Tales
(see
German Fairy Tale Trail
) and the original hand-written scroll manuscript of the Marquis de Sade's
120 Days of Sodom
, as well as Greek poetic drama and Eqyptian works.
Visiting the Bodmer Library
The Martin Bodmer Foundation Library is open Tuesdays to Sundays from 2pm to 6pm, closed on Mondays. Admission is 12 CHF, with reduced admission of 10 CHF for seniors and students. The Colongy neighborhood is on the south side of Lake Geneva, served by bus line A, or a short drive by car with parking at the Le Forge Restaurant next door, a nice spot to stop for a meal to catch your breath. ©
Bargain Travel Europe
Find best hotel and travel deals for Geneva at TripAdvisor
Rail Europe Deal Best of Lake Geneva & Matterhorn
Web Info
Foundation Bodmer
These articles are copyrighted and the sole property of Bargain Travel Europe and WLPV, LLC. and may not be copied or reprinted without permission.

SEE ALSO:

PATEK PHILIPPE WATCH-MAKING MUSEUM
CHÂTEAU DE COPPET LAKE GENEVA

CERN - HADRON SUPER COLLIDER TOUR
SWISS NATIONAL HISTORY MUSEUM - ZURICH
INTERNATIONAL REFORMATION MUSEUM – GENEVA
GUTENBERG MUSEUM OF PRINTING - FRIBOURG