DINOSAUR PARK – TENBY
In Pembrokeshire There Be Dinosaurs
Okay, it's not quite Jurassic Park - but these dinosaurs won't eat you. They don't spit water at you either, and are a whole lot cheaper to enjoy than the high tech ride at a movie studio theme park. A few minutes from the south Wales coastal town popular as a holiday destination for its walled central historic district and beach cliffs, on along the road to Pembroke Dock you'll find The Dinosaur Park of Tenby. Not a stuffy old museum of reassembled bones or paleological dig, but a family fun park.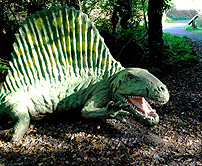 Imagine a walk into the deep thick woods from where emanate the distant rumbling growls of some great monster. You venture with trepidation along a trail until turning a corner and coming face to face with a millions of year old creature, a fin backed Dimetrodon. He looks hungry but it only takes a moment to make friends. Made of plaster and concrete, this dinosaur can be toyed with by children at no risk. The mile long dinosaur trail walk through the trees and across the swamps on wooden boardwalks with almost 30 dinosaurs encountered around every turn is the featured attraction at Tenby Park. Some of the realistic looking life-sized prehistoric creatures make sounds, introducing kids to the giants of the past on a chilling, thrilling discovery adventure. While scientists debate what these creature really looked liked, especially since deciding they are related to birds, some of the dinos at Tenby take on a rather more kid friendly colorful version, some in pastels.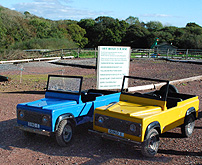 The Dinosaur Park offers a lot more than its signature Dinosaur Trail. A full day of fun and entertainment can be had on a broad variety of rides, games and activities, from miniature golf on the volcano golf course, operating kid-sized motorized construction equipment and jungle jeeps vehicles, family games garden, trampolines and bumper car rides. A full indoor adventure playground of super slides and crawl tubes. But more than just entertainment, the Dinosaur Park provides a learning experience about dinosaurs in a hands-on environment. A Fossil Hunt allows kids to search for their own fossil discovery and take home their own piece of the distant past, and encourage further learning.
Visiting Tenby Dinosaur Park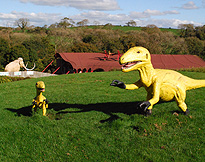 The Dinosaur Park of Tenby is open from February 27 to October 22, located on the B4318 road at Gumfreston, between Tenby and Sageston, just look for the hungry teethy ones. Admission prices are £9.95 for adults, £9.25 for kids, with children under 2 for free. Most all of the rides and activities are included in the admission price, a few, like the disco boats and super jumper require an additional token of £1 and the motorized off-road vehicles £2. Nearby the Dinosaur Park for additional family friendly day out is the Wild Welsh Zoo wildlife park with real live animals, just a short distance down the road, and the magnificent ruins of Carew Castle (see Carew Castle and Tidal Mill). © Bargain Travel Europe
Compare hotel and travel deals in Tenby on TripAdvisor
Web Info
Dinosaur Park
These articles are copyrighted and the sole property of Bargain Travel Europe and WLPV, LLC. and may not be copied or reprinted without permission.
SEE ALSO:

CAERPHILLY CASTLE
DINEFWR CASTLE PARK AND NEWTON HOUSE
ST DAVID'S BISHOP'S PALACE AND CATHEDRAL
LAUGHARNE CASTLE - ROMANTICS RUIN
SEAVIEW GUESTHOUSE - DYLAN THOMAS - LAUGHARNE
FAMILY HISTORY RESEARCH CENTER - SWANSEA