NORTH MORETON
Kings and Witchcraft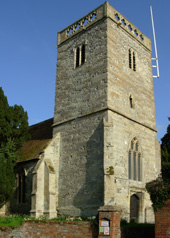 North Moreton is one of those countless tiny English villages, just a narrow country road intersection with a remarkable history one might never know just passing through. The town's church, dating from the Norman period was built in 1270, with original construction methods still visible and similar architecture to Christ's Church Oxford. Miles Stapleton was an important figure in the court of Edward I and served as Head of Household for Edward II (see Mortimer's Hole), ultimately killed at Bannockburn in the English border wars against the Scots (see Langley Castle). Before the reformation, itinerant chaplains were endowed to travel to the smaller churches to give mass and Miles de Stapleton built them a "chantry" with purportedly a tunnel from the house to the church so they would not have to be seen on the street. If you're visiting the Didcot Rail Centre (See Didcot Steam Trainspotting in Oxfordshire) for a Steam Day ride on one of the Great Western Society preserved steam locomotives, take a stroll through the village.
There is also a bit of witchcraft lore in the North Moreton history. Reportedly in 1627, local tough Brian Gunter got into a fight over football with Andrew Gregory's two sons, drew a knife and killed both of them. When Elizabeth Gregory said Old Gunter was a "murdering bloodsucker and should be revenged blood for blood", Gunter's daughter Anne started having writhing convulsions, foaming at the mouth and "sneezed pins". Elizabeth was accused of witchcraft and declared by Anne to possess a familiar black rat with a swine's face and a boar's tusk. I wasn't there, I'm just reporting facts, but one begins to wonder exactly how many witchcraft trials resulted from 17th Century football hooliganism?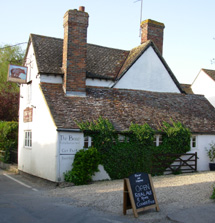 If your idea of witch's brew with the coven and the English-Scotish rivalry is watching a football match with a pint of fine English Ale and some bangers and mash at a local pub which dates back 400 years to those curious days, the Bear Inn in North Moreton offers a chance fopr a country-side casual meal! © Bargain Travel Europe
Find best hotel and travel deals in Oxfordshire
Web Info
Didcot Railway Centre
For more England Bed & Breakfasts check on Britain Express
These articles are copyrighted and the sole property of Bargain Travel Europe and WLPV, LLC. and may not be copied or reprinted without permission.
SEE ALSO:

HENLEY ON THAMES ROWING

BIG BEN TO GREENWICH THAMES TOUR

LONDON THRILLER – HITCHCOCK SLEPT HERE

HAUNTED HOGHTON TOWER
LISTING YOUR VACATION PROPERTY FOR RENT
THE BEAR HOTEL - WOODSTOCK OXFORDSHIRE
STEAM & SPEED - DIDCOT RAILWAY & WILLIAMS F1