TRAITOR'S GATE TO MORTIMER'S HOLE
Ambition and Murder - Tower of London to Nottingham Castle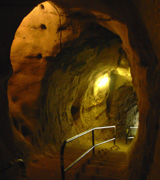 For those who have thought of taking "The Davinci Code" Tour" but were looking for some more medieval intrigue, you can follow your own trail of "the man who would be king" Lord Roger de Mortimer who very nearly succeeded in overthrowing the Plantagenet English monarchy. The trail can be followed from the "mind the gap" breadth of London's underground and the Tower of London on the Thames, to a day trip by rental car or Britrail train to Windsor and Kenilworth Castle in Oxford and on to Nottingham. A rarely told story of illicit love and intrigue, murder and betrayal.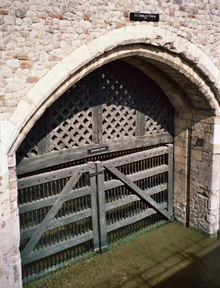 Roger Mortimer was a charismatic Welsh Lord who declared himself to be the Earl of March, then a no-man's land between England and Wales, was being held in the Tower of London (see Visiting Tower of London) for siding against King Edward II in 1324 and scheduled to lose his head, when the young and beautiful Queen Isabella (French, of course), fell in love with Mortimer, almost years older than she, and helped him escape to France where they raised an army, crossed the channel and defeated her husband, putting her teenage son Edward III on the throne. Edward II, who was gay and had lavished too much power and position on his "favorite" was imprisoned at Kenilworth Castle in Warwickshire for a time, (see Kenilworth Castle) and then moved to Berkeley Castle (see Berkeley Castle Edward II) where he was murdered by being impaled with a red-hot poker through a horn in his anus to avoid detection, and the illicit couple jointly ruled as chancellor. (And you think divorce court is rough today!)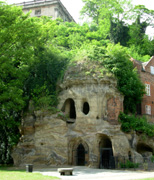 When the young King Edward was to turn 18, Mortimer planned to murder him and his young wife, Queen Philippa (see Blenheim Palace), and put their infant son on the throne, so he could disband the Parliament and name himself Lord Protector of England. But young king Edward, locked up as a prisoner inside Nottingham Castle, discovered the plot and got word to men outside, who crawled through a secret cave under the mountain into the castle and arrested Mortimer. The cave is now known as "Mortimer's Hole". Most of the medieval Nottingham castle is now gone, destroyed in the English Civil War and replaced by a later palace, now a museum, but you can still see the secret tunnel of "Mortimer's Hole".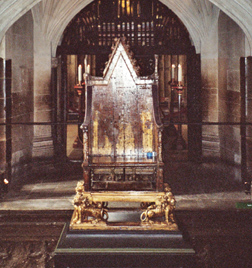 Mortimer was returned to the Tower of London through "Traitor's Gate" where prisoners were brought in from the Thames and finally did lose his head, which sat on a pike on London Bridge collecting flies for awhile - a warning to others of similar ambition. In London you can also check out the English coronation throne of the Plantagenets at Westminster Abbey, which used to contain "The Stone of Scone" a piece of Scottish sandstone where English kings figuratively - and literally - sat their royal butt cheeks on Scotland (returned to Scotland - sort of - in 1996, though rumors of a fake abound), then on to Windsor Castle where the royals have lived "out of town" for eight centuries (see Windsor Castle) and where Mortimer engineered the betrayal of the young king's ally the Earl of Lancaster. © Bargain Travel Europe
Compare the best hotel and travel deals in Nottingham on TripAdvisor
For more British Travel info check out Britain Express
These articles are copyrighted and the sole property of Bargain Travel Europe and WLPV, LLC. and may not be copied or reprinted without permission.
SEE ALSO:
NEWSTEAD ABBEY - BYRON IN NOTTINGHAM

ROBIN HOOD LEGEND OF SHERWOOD FOREST
RIPLEY CASTLE AND BOARSHEAD INN