PLAY GOLF IN EUROPE
Find tours, tips, travel or your golf trips to Europe. Here are a selection of course and ideas for your trip to Europe. Budget your time and fit in as many holes as you can between the wine tours and romantic hotels while the missus is out shopping for bargains at the designer store, then be sure to plan on some fine dining at the nearest bistro.
Winter Bargain Golf at the Ryder Cup Course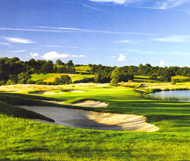 The Celtic Manor Resort is offers a "Winter Two Course Stay and Play" package including room, full Welsh breakfast, and two 18 hole rounds of golf on the Ryyder Cup "Twenty-Ten" Course


Playing Golf with Dracula?


For a unique spot to play the links, the Whitby Golf Club is located just outside the North England sea coast resort village of Whitby, virtually in the shadow of the haunting Whitby Abbey which inspired Bram Stoker to write his famous vampire tale, the greens on the high sea cliffs offer stunning views and the challenge of driving across the deep ravine which cuts through the course.
Check out these Golf Getaway Packages!
PLAY GOLF IN EUROPE ON A BUDGET?
A bargain is in the eye of the beholder
Check back for changing offers and deals or use the search tools to find a bargain deal or discount on an exclusive hotel or air fare whether you travel First Class or Tourist you can find a golf destination to your taste.
Play golf in Spain!

Malaga Golf All inclusive golf holiday package for the Costa del Sol golf courses in Malaga
Golf Mallorca All inclusive holidays including tee times, accommodation and car hire for the Palma de Mallorca
region in Spain.
Golf Algarve Offering golf holiday packages for Algarve Portugal.
Package including golf tee times, car hire and hotel bookings.
See Also
WALES IN WINTER DISCOUNTS DEAL
Carson City Divine Nine, Nevada