SHARE A NUDE BATH WITH MARK TWAIN
Friedrichsbad Baden-Baden - Therapeutic Luxury Spa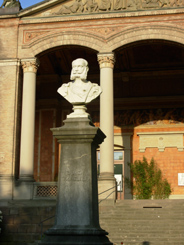 The baths at Baden-Baden have been hosting the wealthy and famous for 127 years. Baden-Baden is located in the Black Forest of South West Germany's Baden-Wurttemburg state, across the Rhine River from France and Strasbourg (see Germany's Black Forest). It was of this wooded idyll that Mark Twain remarked that soaking in the baths here in Freidrichsbad"…you lose track of the world within 20 minutes…" (see Mark Twain's Jumping Frog).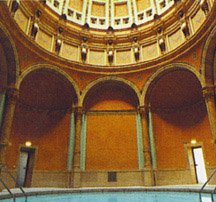 The underground springs at Baden-Baden were first discovered by the Romans, who if they found a pool to wash their tired conquering feet, they built a bath (see Bad Oeyenhausen). Later discovered by European aristocracy when the Friedrichsbad, a marble columned bathing palace was built as a luxury resort for the rich and noble. Exclusive hotels sprung up in the hill valley surrounding, the worlds most exclusive Casino, predating Monaco's (see Breakin' the Bank in Monte Carlo) by a few years and Las Vegas by about 85, and was built for the visiting gentry. No bathing suits are allowed in the Freidrichsbad, for the 16 step ritual of changing temperatures of thermal waters and massage. The cost for the full treatment is about 30 euro. Discount tickets can be obtained at some of the local hotels.
For the more modest and modern water play experience, the Caracalla Therme allows swimsuits in its indoor/outdoor playland of steamy pools, waterfalls, neck showers, Jacuzzis, hot springs and cold pools witrh a man-made river and waterfall. Cost here is 14-16 euro for a few hours. Near the entrance through the underground garage is the archealogical remains of the actual Roman Bath in which Emperor Caracalla bathed. Its free for the looking. No bathing with the Emperor, nude or otherwise. © Bargain Travel Europe
Compare best hotel deals in the Black Forest on TripAdvisor
Web Info
Friedrichsbad
Relaxing Spa Vacation Getaways!
These articles are copyrighted and the sole property of Bargain Travel Europe and WLPV, LLC. and may not be copied or reprinted without permission.

SEE ALSO:
WALLISERHOF CHALET HOTEL ZERMATT
Snuggle and Bath under the Matterhorn

GOLDEN LÖWEN HOTEL
A Little Romance in Baden-Baden
WHITE WINE AND BEER SAUSAGE
The Wine Road of Northern Alsace

SWEET TOOTH ON THE RUN
OO-so Delicious Strasbourg Cathedral and Pastry

BURG RÖTTELN
Castle Ruins in Baden-Wurttemburg
ROMANTIK HOTEL ZUR OBEREN LINDE
Black Forest 17th Century Hotel & Restaurant